Numerous parents associate kickboxing with a martial art that promotes aggressiveness in those who train. Therefore, they would never think of enrolling their children in a kickboxing school. However, this is a pity, because kickboxing training teaches children important values such as respect and discipline. It promotes their concentration, coordination as well as conditioning skills. In addition, children can let off steam in a kickboxing school
In this day and age, when digital media dominate our everyday lives, it is all the more important to show children how much fun other activities can be. Kickboxing also combines the three elements of sport, play and fun. But from what age is kickboxing suitable? Learn more in this article.
The most important things in 30 seconds:
As with all other martial arts, kickboxing introduces the little ones to the sport in a playful way. The trainers of the fighting schools are nowadays very skilled in leading the respective children's courses.
From an age of six years at the earliest, it makes sense for children to go to kickboxing training.
Kickboxing is suitable for children, but parental supervision around the training and a watchful eye is essential.
---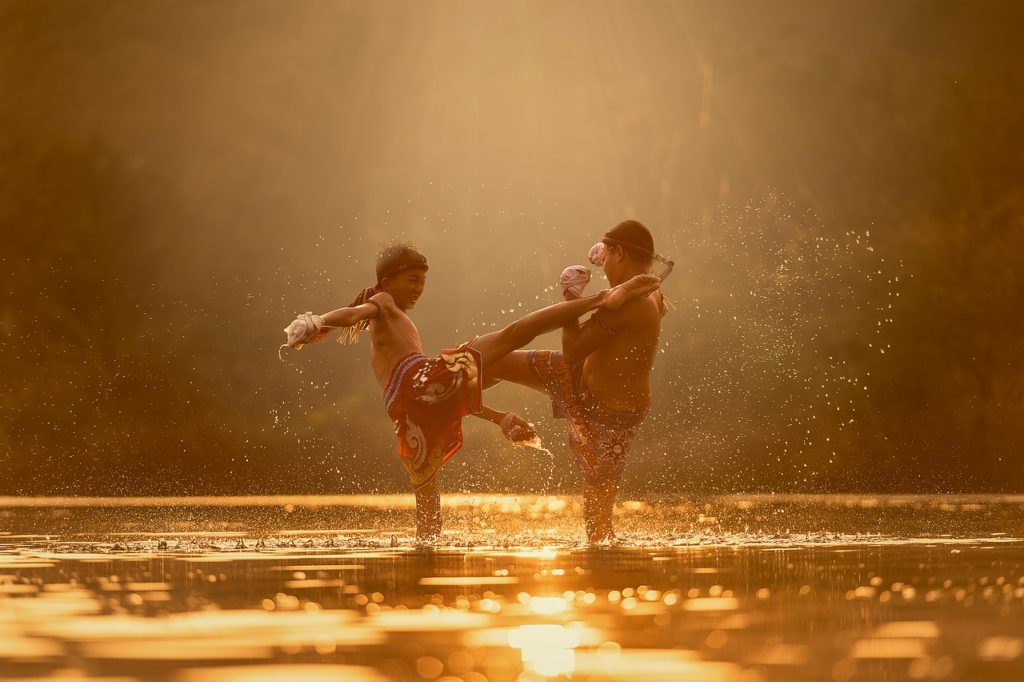 Kickboxing: too violent for children?
Kickboxing is basically one of the tougher martial arts – at least for competitions and adults. Therefore, a majority of adults believe that kickboxing and children simply do not fit together. However, experienced trainers can adapt their training to the needs of children. Kickboxing schools and their trainers introduce their young students to the sport in a playful way in children's courses.
1. Warm-up training
Warm-up training usually starts with a game, such as soccer, basketball or tag.
2. Stretching exercises
This is followed by light stretching exercises on the floor. These have a positive effect on the tendons and muscles of the children. In addition, these children will not suffer from shortened muscles at a later age because they started stretching exercises at an early age. Moreover, by doing it regularly, they always broaden their horizons in terms of stretching.
3. Sports lesson
As the trainers transform the strenuous kickboxing training into a sports lesson adapted to the psychological and physiological needs of children, kickboxing for children is liberating and provides variety. This can be light exercises to strengthen the muscles or group games.

In addition, the little athletes can get in touch with people of the same age. In addition, the trainees continue to learn values such as respect and discipline in a gentle way. Furthermore, they learn to listen to an adult who wants to teach them something, just like in school.

4. Advantages of exercise
Furthermore, in a structured workout, the little ones have a wonderful time and are able to sleep better. This, in turn, has a positive effect on their ability to concentrate at school. Contrary to all assumptions, a good kickboxing training does not make children aggressive, but calmer and more balanced.
At what age can children start kickboxing training?
In general, kickboxing is suitable for people of any age – but at the earliest from about 6 years. However, you should be willing to move a lot and fast. However, some sports clubs or sports schools require a minimum age of 12 years. They justify this with the better coordination, condition as well as cooperation ability with the teacher.
Some children are alienated until they are five years old or have a problem accepting another adult as an authority figure. That is why kickboxing is only worthwhile for children six years and older. Besides, the techniques are simply too demanding for younger children. Even if it doesn't seem complicated, an arm punch or foot kick requires increased coordination skills as well as a good sense of balance.
In addition, by the age of six, the majority of children can also ride a bike. This can prove helpful in a kickboxing workout because of the coordination skills and sense of balance. Or the other way around, facilitate learning to ride a bike.
---
Valuable tips for parents
Parents should first make a trip to the chosen school without their offspring.
---
Is the school suitable for the child?
You should ask yourself what the atmosphere is like in the school and whether the sporting spirit is the main focus.
Moreover, trainers who are really concerned with teaching children the values of the sport and kickboxing have adapted their contract to the needs of the little ones. Thus, parents do not have to sign an annual contract that they can cancel only three months before the end of the year. There is also a price discrimination system. Training for children is significantly cheaper than for adults. Ideally, parents can cancel the contract either monthly or every three months.
---
Attitude of the trainer & feedback on the training
It is also worth asking the trainer how he deals with the "failure" of the children. How does he behave when they cannot yet master an exercise. Does he motivate them? In addition, the guardians should inform themselves about the training procedure. In this way, they can determine whether it is actually adapted to the children's needs.
Understanding and good trainers also offer parents to attend the first training session together with the child. They also have the right to watch during the training in order to get a better picture of the process. This is the only way they can determine whether the training is really suitable for their offspring.
---
Questioning the child about the training
A questioning of the child after each training is in any case recommendable. However, this should show the parents' interest and not come across as an annoying control. Questions such as:
What did you do today during the warm-up training?
What techniques did you use today?
Did you do a lot of boxing or more kicking today?
Did you get to punch the punching bag or a claw?
Did you use your boxing gloves today?
What did you like most about the training today?
What did you not like at all?
These questions show a sincere interest on the part of the parents. They also strengthen the bond between the parents and the children, as they represent the opposite of unaffectedness.