Mostly you see the karateka training and fighting barefoot. But why are often not worn shoes – do not they offer any advantages? In the following article we present offers and provide answers to common questions about karate shoes.
In 30 seconds the most important:
Karate shoes are a matter of taste: in winter they can be useful, but it limits the sensitivity.
If you have circulatory problems, etc., then you should definitely buy karate shoes for the training sessions in cold gyms in winter.
Look for a good fit, soft uppers and cleanability (ideally machine washable)
In fact, almost everyone practices karate barefoot, without any footwear or other utensils on their feet. The main reason for this is that when wearing normal shoes, certain movements would be significantly impeded by the shape of the shoe. Therefore, manufacturers have brought special karate shoes on the market. Whether and to what extent the purchase is worthwhile, you should learn in this section.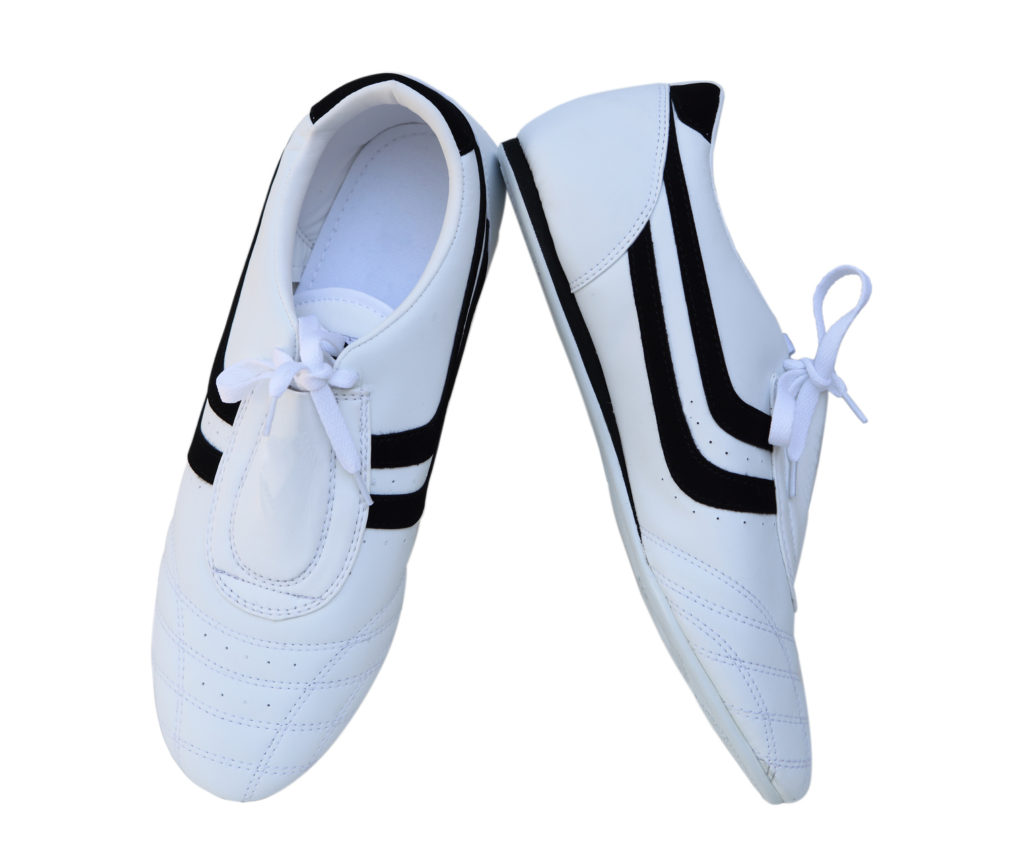 Advantages and disadvantages of training with karate shoes
The advantages of training with shoes are obvious:
No cooling down of the foot during breaks with bad blood circulation
No unaccustomed punctual load of individual zones
No abrasion of the skin on grippy hall floors
No danger for the toes with wrong execution of the leg techniques
These disadvantages now seem huge at first and may tempt some of you to buy karate shoes. However, do not act too quickly, otherwise your new shoes may soon need a permanent place in the closet.
---
The disadvantages of training with karate shoes are:
Accustoming of wrong movement sequences, which would not be possible barefoot
reduced feeling for the foot positions
Karate shoes can usually not be worn in competition, as foot protectors are mandatory here
So you see there are not only advantages to fighting with shoes. If you train with shoes for years and have to switch to foot protectors on competition day, you've almost lost because the feeling without shoes is completely different.
However, the same is true as so often in life: the body gets used to a lot of stress. The muscles grow with regular karate training, the cornea that forms shields the stressed areas of the feet, and your toes are soon protected by the correct execution of the technique.
What types of karate shoes are there?
Basically, there are two types of shoes.
The first type resembles normal indoor shoes and is usually made of synthetic leather with a soft rubber sole. The cushioning is very strong, but the clear disadvantage of these models is the reduced feeling for foot positions due to the sole of the shoe being between the foot and the hall.
The second variant is completely made of a soft material (for example polyester), thus adapts very well to the foot and allows similar movements as would be possible barefoot. Especially in the early days, this variant should be preferred, as it feels more natural.
Cleaning and care of the shoes
There is not very much to say here. Of course, you should be aware that the shoes, despite the best care, due to the high load will not last forever.
Variant one, synthetic leather with a rubber sole, can be cleaned superficially with a damp cloth and should be treated with a care product from time to time to prevent the leather from cracking. Machine washing is not recommended.
The soft shoes made of polyester or similar materials are permeable to air all around and therefore only need to be aired out. If washing is necessary, it can be done in the washing machine as long as the temperature is 40°C maximum and you do not use the spin cycle.
So you have to decide for yourself if you want to buy karate shoes or not. One variant would be of course to buy the shoes for the beginning and to get rid of them after a few belt exams. The alternative to this is to grit your teeth and just get your feet used to training. Usually this only takes a month or two.
Update: 2023-06-09 / Affiliate Links / Bilder von der Amazon Product Advertising API