The karate suit has not only the task to cover the body. It also serves to cool the body during training and represents a robust training outfit that also offers a large degree of mobility. The Karate Gis are largely identical in form, only the suits for Kata and for Kumite differ slightly.
In 30 seconds the most important:
Choose the right size for your karate suit (see size chart below)
Choose a suit with a material thickness of more than 10 oz
The material should be comfortable to wear, take best 100% cotton
Think about the cleaning, the suit should be machine washable
Before you go to buy your karate suit, you should be clear about the size and requirements. We present you the most important differences.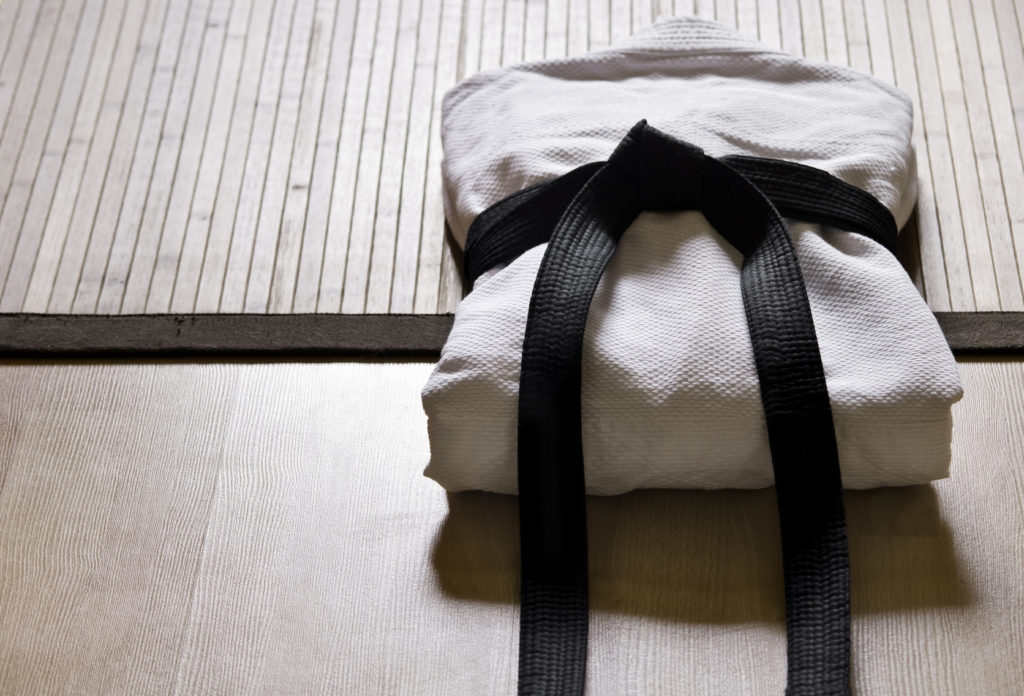 ---
Karate suit size charts for men, women and children
You can easily choose your karate suit according to your body size. Due to the wide cut of jacket and pants and the type of lacing, these universal sizes fit almost everyone. Check out the manufacturer's size chart if you are unsure. Basically, these sizes apply:
Size chart karate suit men

Size chart karate suit ladies

Size chart karate suit children

If in doubt, take your body measurements and contact the manufacturer, because an unsuitable suit will hinder you in training.
---
What materials are used?
Most gi are made of cotton. This shows with appropriate fabric thickness excellent properties in the points of sweat absorption and durability. In some cases, polyester or viscose is also used, which, however, offers similar properties. The gi can be made either purely from one material or from a mixture of several. However, the material alone has nothing to say about the overall quality.
It is best to choose a 100% cotton karate suit. This is comfortable to wear, can absorb sweat and is easy to wash.
---
What is worn underneath?
Men usually do not wear anything underneath except for underpants. The more contact the gi has with your skin, the greater the cooling effect.
For the women among you it looks a little different. To avoid unwanted deep insights you should wear a simple white top or a sports bra underneath.
---
What is the recommended fabric thickness?
Even as a beginner, you should buy a karate suit as soon as possible to benefit from the advantages of karate training.
In the martial arts accessories are offered for karateka very many Gi, which are already under 30 € to have. These usually have a fabric thickness of only 8 oz and, if you are one of those who sweat a lot, can become soaked and stick to your body. This would noticeably hinder your movements.
Most karateka get by with a fabric thickness of 10 oz, experienced masters often prefer 12 or 14 oz. In general, there are no disadvantages to using a thicker fabric, other than a higher price.
For the first training it doesn't matter, you can even participate without a karate suit. In the long run, however, you should invest in a good suit, which should have 10 oz or a higher material thickness.
---
How to clean the karate suit?
These tips here are universal, so be sure to check your garment's washing instructions before relying on them blindly.
Since most gi contain cotton or viscose, these should be treated with care, whereas polyester is a bit less sensitive. Hand washing is safe, but is considered by very few. Washing in the machine is usually no problem, as long as you do not increase the temperature above 40 ° C. Otherwise, the karate suit would shrink. The karate suit would otherwise shrink. Attention: Some washing instructions also say 30°C.
You should also refrain from washing other clothes that could damage the GI or use a laundry bag. Predestined for damage are for example the buttons or zippers of jeans.
Drying in an electric dryer should be done with extreme caution or avoided altogether. If you want to use the dryer, then only on a low setting, as high heat would shrink or destroy the GI.
Otherwise, there is nothing wrong with simply hanging your jacket and pants out of the machine on the line. Just take care of your floor, because the clothes store a lot of water, which gradually drips out. If you don't have a line available, you can also lay the gi out on a surface and turn it over after 24 hours.
You can simply smooth out the wrinkles by hand at this point, which makes ironing unnecessary in most cases.
Your suit should be machine washable. It is best to take a cotton karate suit, then this should not be a problem.
---
The karate suit has several functions
Like all other martial arts clothing, the gi should absorb and evaporate sweat so that your body is cooled. Furthermore, the gi in karate is usually cut a little wider, which results in better circulation of air between your gi and your skin. This additionally favors the cooling effect.
The other main function is the increase in mobility, because with the karate suit significantly more athletic movements are possible than with a pair of jeans.
A secondary function of a particularly strong Gi is the"whip crack" at the end of a technique. This refers to the sound that occurs when you perform your movements at a very high speed and stop abruptly at the end point. Especially for masters, this effect enhances the technique through acoustic feedback.
---
Where does the karate suit come from?
The Gi, or Karategi, most likely originates from Judo and found its way into Karate probably through the contact between Judo founder Kanō Jigorō and Funakoshi Gichin. This detail is not proven, but the similarity speaks for it.
For international competitions, the WKF has very precise regulations that the karate suit must meet. There is also a distinction between suits for kata and for kumite, with slight differences in cut and length.
| # | Preview | Product | Rating | Price | |
| --- | --- | --- | --- | --- | --- |
| 1 | | adidas Unisex-Jugend Adistart Karateanzug 197 g Kampfsport Student Gi 130 cm weiß | | 34,95 EUR | Amazon |
| 2 | | adidas Herren, Damen, Kinder WKF Club Karate-Uniform – 227 g Kampfsport Student Gi, weiß, 170 | | 50,00 EUR | Amazon |
| 3 | | Supera Kinder Karate Anzug weiß - Karateanzug mit weißem Gürtel - 3 Teiliger Karate Gi mit... | | 29,99 EUR | Amazon |
| 4 | | IPPONGEAR Unisex Jugend Club 2 Gi Karateanzug, Weiß, 120 EU | | 36,00 EUR | Amazon |
| 5 | | Chikara Karateanzug Kinder weiß, Karate Anzug Jungen, Karate Anzug Mädchen, Karateanzug Kinder... | | 28,99 EUR | Amazon |
Helpful videos about the suit
As a beginner, it can happen that you still have a few questions about the karate suit. Therefore, we have answered a number of common questions for you. Maybe you will also find some tips about karate in the following videos.
---
How to put on a karate suit correctly
---
Karate belt tying
---
Fold suit correctly
Update: 2023-05-28 / Affiliate Links / Bilder von der Amazon Product Advertising API