Approximately every two minutes, an intruder tries to break into a house in Germany. In over a third of all cases, the attempted break-in is all that remains, thanks primarily to the mechanical security measures that now make it much more difficult for burglars to gain access in many German households. With such security elements, you can therefore effectively increase the burglary protection in your own four walls, because the doors and windows can no longer be simply levered open
In the following sections, you can find out how to secure your doors and windows, what subsidies are available for burglary protection and what other measures you can take to increase burglar resistance.
---
Burglaries: 5 facts about burglaries
First, we have compiled five facts about burglaries for you to see that this is a very serious problem:
In 2017, the number of reported burglaries was 116,000. In North Rhine-Westphalia, the number of attempted burglaries increased by 38 percent in recent years, in Baden-Württemberg by 61 percent and in Bavaria by 23 percent
A total of 41 percent of suspects in burglary cases come from the same community as the burglary victim. Nine percent of burglars live in the same county as their victim. Another 19 percent of burglary crime suspects live in the same county as the victim.
A great many crime suspects are between the ages of 21 and 40 . Only about two percent are 60 years and older or 14 years and younger. Approximately 85 percent of all crime suspects are male
Lever tools such as screwdrivers and crowbars are among the most popular burglary tools. Pliers, drills, hammers and keys are also used for burglaries
Natural enemies of a burglar are watchful neighbors, lights and dogs
According to police data, perpetrators gain entry through balcony doors or windows in single-family homes, while in apartment buildings they enter through the front door. Smashed windows are rarely seen in burglaries today. This was more the case in the past, when single glazing was common. Often, the deterrent effect of burglary protection products alone ensures that the perpetrator does not even try, but looks for another object. Burglars who do not succeed after a short time almost always give up. Unsecured windows and doors, on the other hand, are no obstacle: a normal screwdriver is enough to open them quietly at lightning speed. That's why investing in good burglary protection is definitely worthwhile.
Whether it's an apartment door, a garage door, a cellar door or a front door, every door offers a potential burglar the opportunity to break into your home. That's why burglary protection measures should start at all of these doors.
If you are building a new house or planning to replace your doors, then you should replace every door through which you can get into the house with doors from resistance class RC 2. These doors have been tested for burglary resistance in accordance with DIN EN 1627 and have thus been able to successfully demonstrate that they have no weak points in their overall construction, including hardware, lock, frame and door leaf. According to DIN EN 1627, a distinction is made between seven resistance classes (RC):
RC 1 N
RC 2 N
RC 2
RC 3
RC 4
RC 5
RC 6
Classes RC 1 to RC 3 are suitable for private use, while classes RC 4 to RC 6 are recommended by the police for commercial use. Basically, the police recommends burglary protection with RC 2 doors in normal private areas. However, depending on one's own security needs and the value of the household goods, doors of resistance class RC 3 may also be considered.
---
Doors with retrofit standard
It is also conceivable to use doors that are at least equipped with burglary protection features recommended for retrofitting elements for burglary protection. These include:
Cylinder locks (mortise locks)
Profile cylinder with drilling protection
Protective fitting with a cylinder cover as a pulling protection
Latch lock
Door viewer
Integrated door gap lock such as a rim bolt lock
However, such a door could not prove its burglar resistance as a whole element in a test. You should be aware of this.
---
Retrofitting burglary protection for doors
If you do not want to replace existing doors completely, you can also retrofit the burglary protection. In this context, the police recommend above all retrofit kits, additional locks, multi-point locks with locking bars, crossbar locks and hinge side guards. Cylinder locks, profile cylinders and protective fittings can also increase burglar resistance.
Always make sure that the elements for burglary protection have the necessary certifications. Weak door leaves should either be replaced with solid door leaves or reinforced accordingly. In addition, a wide-angle peephole with an angle of at least 180 degrees is recommended. A door intercom system, combined with a video camera if necessary, can also increase burglary protection. Have side entrance doors secured with solid push bolts or strong jamb bars made of sectional steel or wood. These should be installed in the upper and lower thirds of the door.
Burglar protection is also the be-all and end-all when it comes to windows. Whether for new construction projects, window replacement as part of a renovation project or as a retrofit for existing windows and patio doors, burglary protection can be implemented in all three cases.
---
Installing windows with RC 2 and RC 2 N
When building a new house or renovating an existing one, it is advisable to choose French doors and windows that have been tested for burglary resistance in accordance with DIN EN 1627. These windows have been tested for burglary resistance as an overall construction of hardware, glazing and frame. Windows are also divided into seven resistance classes:
RC 1 N
RC 2 N
RC 2
RC 3
RC 4
RC 5
RC 6
In principle, you are well advised tochoose windows for private use with resistance class RC 2, just as with doors. They have burglar-resistant glazing, mushroom-headed fittings and lockable window handles. Windows of resistance class RC 3 are also sometimes chosen for private apartments and houses. They have P5A glazing, so the resistance value is even higher.
Alternatively, you can consider choosing RC 2-N windows. They lack burglar-resistant glazing, but burglars very rarely attack the glass, so these windows are still very safe. Mushroom-headed hardware and a lockable window handle are also offered by the RC 2 N resistance class. For the upper floors, which can be reached by burglars only with a climbing aid such as a ladder or a garbage can, windows of resistance class RC 1 N are usually sufficient.
---
Windows with retrofit standard
It is also possible to use windows and French doors that have at least burglar-resistant features recommended for retrofitting existing components. These include mushroom-headed hardware, class P4A burglar-resistant glass and a lockable window handle.
However, such windows did not have to prove their burglar resistance in a test, as is the case with resistance class models.
---
Retrofitting burglary protection for windows
It is not always possible to replace the existing windows. Then you have the possibility to retrofit the burglary protection. In this respect, the police recommends screw-on security devices and mushroom head fittings in particular to protect against prying.
If you decide to use visible screw-on security devices, you should install at least one security device on the handle side and one on the hinge side. In addition, one screw-on security device per running meter is recommended.
With mushroom head fittings, you can attach the security technology invisibly. Make sure that they are tested according to DIN 18104 Part 2.
In addition, the police recommend lockable window handles in accordance with DIN 18267. They should be able to withstand a torque of 100 Newton meters, which corresponds to resistance class FG-S-1.
The basic police recommendation can be supplemented by burglar-resistant security film or burglar-resistant glazing.
In addition, secured glass retaining bars or gear-drilling protection can be used.
Unfortunately, it is not exactly inexpensive to implement effective burglary protection as recommended by the police. However, owners and tenants of residential buildings have the opportunity to obtain low-interest loans from the KfW as well as grants from the funding programs "Altersgerecht Umbauen – Kredit (159)" and "Altersgerecht Umbauen – Investitionszuschuss (455)". Eligible burglary protection measures include:
House and residential entrance doors that comply with resistance class RC 2
Multi-point locking systems with locking bar function
Door retrofits in accordance with DIN 18104 Part 1 or Part 2
Mortise locks according to DIN 18251, at least class 4
Burglar-resistant glazing of class P4A according to DIN EN 356
Protective fittings according to DIN 18257, class ES 1 or higher
Burglar and hold-up alarm according to DIN EN 50131, at least grade 2
Roller shutters of resistance class RC 2 or better
Grilles of resistance class RC 2 or better
Window and French door retrofits according to DIN 18104 part 1 or part 2
Door viewers
Intercom systems and door communication
Picture intercom systems using video technology
Building emergency and call systems
Motion detectors
Presence detectors
Lighting
Electronic drive systems for roller shutters
For individual measures, the subsidy amount is 20 percent on the first 1,000 euros of eligible investment costs. Certain ancillary costs are already included. In addition, you can receive a further 10 percent for each additional euro per application. You must invest at least 500 euros. Subsidies are available up to a maximum of 15,000 euros of the eligible investment costs per residential unit.
To find out which additional security measures make sense, you should always put yourself in the role of a burglar. Walk around your house yourself and think about how a burglar would act. It is always a good idea to invest in modern security technology. A visible alarm system is definitely a deterrent, and a surveillance camera – even if it's just a dummy – has deterred many a burglar from even attempting to enter the house.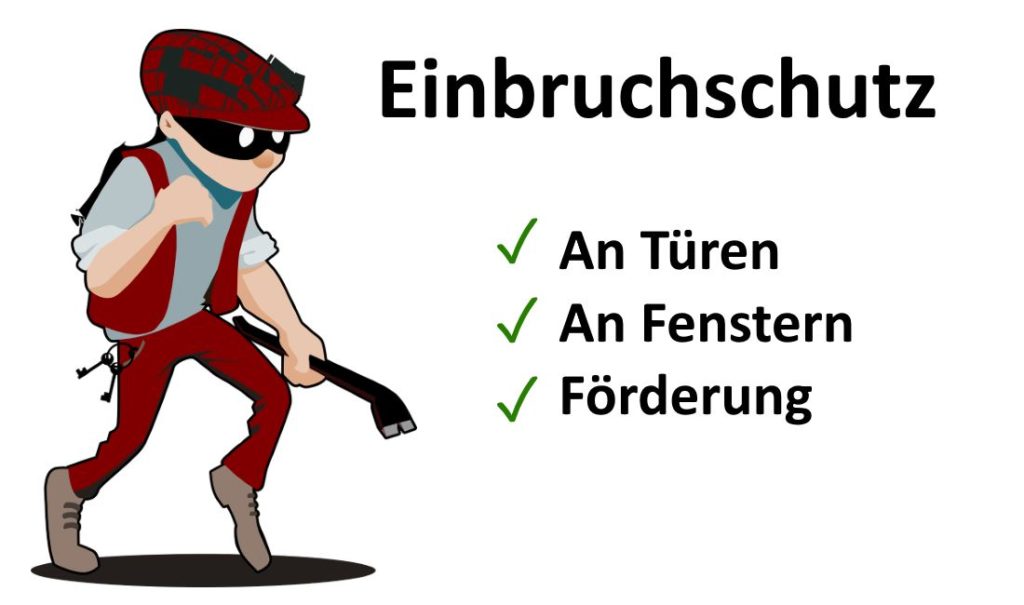 ---
Alarm systems
An alarm system can be configured in many different ways. For example, it sounds an alarm as soon as a window is broken, a light barrier is breached or a motion detector is triggered – depending on the model. The triggering factor can be placed in the house or garden.
Most models sound the alarm in the form of lighting, a siren or also by means of a message to a security service or the police. Depending on the model, this can still be prevented by a security code, so that no false alarm is triggered.
---
Motion detector
A motion detector triggers, as the name suggests, as soon as a movement is registered. This is the case when a light barrier is broken. However, there are also infrared motion detectors that trigger when an object approaches that is different from the ambient temperature.
The signal drives away the burglars in the form of an illumination or by an acoustic signal. Of course, the motion detector can (and should) also be connected to an alarm system.
---
Self defense weapons & dogs
If the burglars have entered the house, the burglar alarm must ensure that security forces are alerted. However, you will then be on your own for a certain period of time. In case of emergency, it is therefore advisable to have weapons in the house for self-defense. However, pay attention to the guidelines of the weapons law. A dog is also a vigilant helper against burglars. Not only does it act as a deterrent and possibly keep burglars from breaking in, it sets off the alarm and can also defend you, as long as it is not exactly a lap dog.
Update: 2023-05-28 / Affiliate Links / Bilder von der Amazon Product Advertising API