Combat boots are special shoes for emergency forces and an important part of tactical clothing. There is now a huge assortment of combat boots on the Internet – unfortunately also counterfeits. It is not always easy to keep track of which ones are real (and above all good) and which ones are fake. In the following we present you criteria and backgrounds about combat boots and how you can find a good model
In 30 seconds the most important facts:
Combat boots are special footwear designed specifically for soldiers
They are sturdy lace-up boots made of leather: durable, robust and battle-tested.
In 2022, the Bundeswehr plans to equip all soldiers with 2 pairs of new combat boots (light and heavy boots)
Combat boots are now popular and affordable outdoor footwear due to their quality.
---
Combat boots have to support the feet optimally on long marches in the terrain as well as in close combat. Therefore they have to be comfortable, ergonomic and functional.
Robust & waterproof: According to the German Institute of Defense Science and Technology (WIWeb), leather boots must not let moisture through, even after hours of simulated walking through water. The requirement is that the boots remain waterproof for 72 hours.
Firm tread: The tread must be slip-resistant and provide a secure grip on the terrain. There are separate mountain boots for mountain troops
Puncture-resistant sole: Even if stepped on a nail, shards or other sharp objects, the sole will hold up
Resistant & Antistatic: The sole is also resistant to acid and gasoline, abrasion resistant and antistatic. Also the surface of the shoes is mostly resistant to fire and water (of course only for a short time)
Breathable & comfortable: even during long marches, the feet should not get tired, pressure points or blisters
Entry: the (newer) comfort also includes a large entry area to easily get in and out of the shoes
The upper is made of tanned leather. According to the defense science institute, the seams are a particular challenge. Efforts are made to use as few seams as possible, as seams are always a weak point on the shoe and can allow moisture to pass through.
With regard to different climatic conditions, there are different combat boots and separate models for desert or tropical use.
Which combat boots does the Bundeswehr use?
The combat boot equipment of the German armed forces is currently being revised and went through the media in a big way in the summer of 2019. Instead of the previous all-season model, troops will now be equipped with two pairs of shoes: a "combat shoe, heavy" and a "combat shoe, light." Distribution began back in 2017, according to media reports, but as of 2019, only 160,000 of the roughly 183,000 soldiers had received a new heavy combat shoe, and only 31,000 soldiers had received the additional light model. It is expected to take until 2022 for all soldiers to be fully equipped.
Bottlenecks in the industry are cited as the reason for the long duration. The Bundeswehr generally awards the contracts to German companies, which we will tell you in detail later.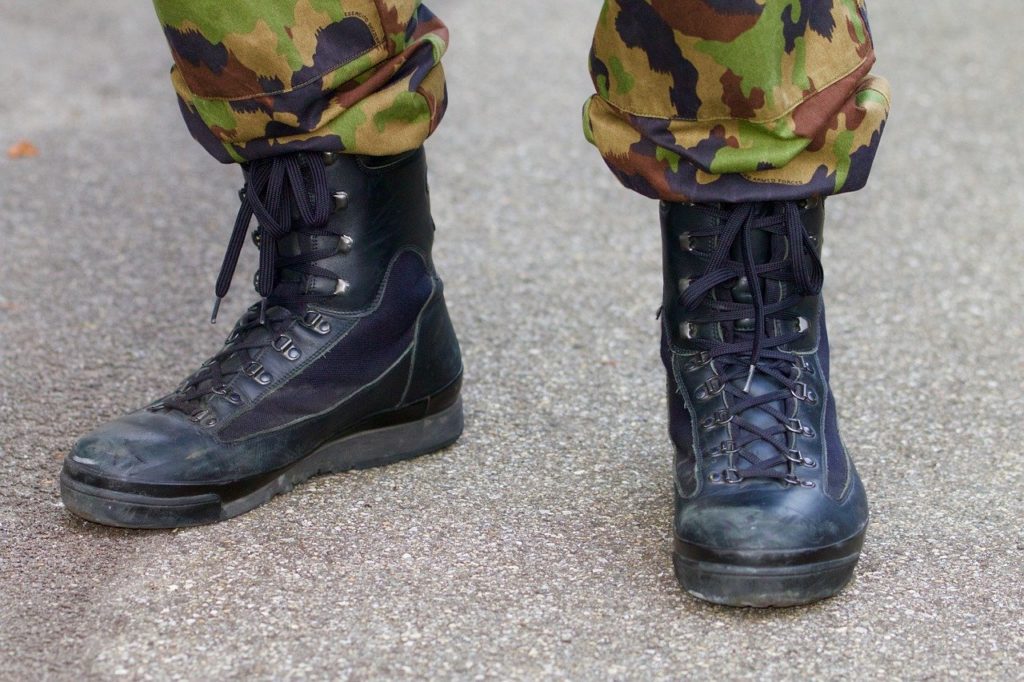 ---
Bundeswehr basic model 2007 DMS
The former basic model, the all-season boot, is the 2007 DMS combat boot. Both the outer and inner lining are made of waterproof cowhide leather. The tongue is specially padded and there is a changeable insole. On the Internet, the 2007 DMS combat boot is already available for about 100 euros
However, the reason for new combat boots were the increased complaints of soldiers that they get blisters in the shoes and also otherwise were not so satisfied. So if you are looking for some combat boots, it is questionable whether the now outdated model is really the best choice for you.
---
New Bundeswehr combat boot 2017
Since 2017, there is now the new combat boot, heavy and combat boot, light. The men's models are made by Meindl and Haix, and the women's models are made by Meindl and Lowa. The women's models are slightly narrower cut and higher
What is new with the Bundeswehr is that women can also choose men's models and men can choose women's models if they fit better. As you can imagine, it's a big challenge to develop shoes that fit all 183,000 soldiers' feet equally well. After all, our feet differ in many other criteria besides shoe size. According to the Bundeswehr's specifications, the combat boot, heavy of 2017 is again a black lace-up boot made of leather with a Gore-Tex membrane, while the light combat boot is brown.
The new combat boots are said to be even more ergonomically cut. In addition to waterproofing tests, the boots were also tested for hours in hot desert sand. The feet are supposed to withstand both cold and heat in them
According to media reports, the new combat boots would be well received by troops. However, Eric Becker of WIWeb tells JS Magazine that generally anything new is first received positively
On YouTube, you can already find the first reviews from civilian testers, who describe the Haix combat boot as wonderfully made and comfortable to wear. He is not for real mountain tours, but still very well suited for any terrain.
Video of the German Armed Forces from 2011
Statement of the WELT about the Bundeswehr combat boots 2019
Availability of the new combat boots
Since, as mentioned, there are bottlenecks in equipping the troops, the new combat boots from the 2017, 2018 and 2019 productions are not yet on sale for private individuals. One can order on the Internet isolated models of the 3rd choice, which were sorted out, because they are not completely tight, for example. According to "Bundeswehr and more", the price should settle at around 230 to 280 euros.
The models of the 3rd choice cost about 100 euros. The first customer reviews, for example on Amazon, are consistently very good. Even though they are "3rd choice", buyers consistently find the shoes to be very high-quality and comfortable. However, some report that the shoe runs small and it is better to order one size larger.
Other popular combat boots
In addition to the combat boots mentioned above, we would now like to briefly introduce you to other popular models:
Combat Boots 2000: The Bundeswehr / NATO Combat Boots 2000 are shoes that were made before the year 2000 by various manufacturers. They are black cowhide lace-up boots with a shaft height of about 26 cm and a reinforced heel area. In terms of price, they are already available for under 100 euros
Combat boots 280, 285 and 275: Under the names combat boots 280 or 285 hide different size designations. For example, size 285 corresponds to shoe size 44. As a rule, the combat boots offered under these names are older Bundeswehr combat boot models of the basic model from 2007.
American Combat Boots: Of course, you can also order combat boots of foreign armed forces. Combat boots of the US Army are very popular. Manufacturers are for example the companies Altama and Belleville and there are many models in light brown.
#
Preview
Product
Rating
Price
1
Brandit Phantom Ranger 10 Loch Stiefel Schwarz, Gr.- UK9/EU43

74,90 EUR

53,77 EUR

Amazon
2
Mil-Tec Unisex Tactical Boot M.ykk Zipper Wanderstiefel, Multicam, 39 EU

99,99 EUR

71,84 EUR

Amazon
3
Mil-Tec Herren Vægstøvle-12822102 Wanderstiefel, Schwarz, 45 EU

79,99 EUR

56,55 EUR

Amazon
4
Wüste Armee Combat Patrol Tactical Militärische Sicherheit leicht Seude Leder Jungle Stiefel

53,99 EUR

Amazon
5
YEVHEV Tactical Schuhe Herren Militär Security Tactical Einsatzstiefel Boot Sport schuhe...

82,99 EUR

Amazon
Update: 2023-05-28 / Affiliate Links / Bilder von der Amazon Product Advertising API