Ninjutsu is a martial art that enjoys great popularity among martial arts enthusiasts due to its techniques and spiritual character. After just a few months, people who train achieve visible success. They can move more skillfully in everyday life. Furthermore, the quality of their perception of their respective environment increases.
But how does one learn Ninjutsu? Can it be learned at home and how long does it take? In this article we present what is important and how you can quickly achieve success.
The most important things in 30 seconds:
Ninjutsu is one of the martial arts that cannot be learned at home. Due to the techniques, throws, and levers of the martial art, those training depend on an expert trainer as well as like-minded fellow athletes.
However, students can practice and reinforce the basic techniques they have learned at home. They have the opportunity to perform them with an imaginary partner and fundamentally increase their fitness.
Ninjutsu consists of four techniques: body school, weaponless close combat, close combat with weapons & spy school.
---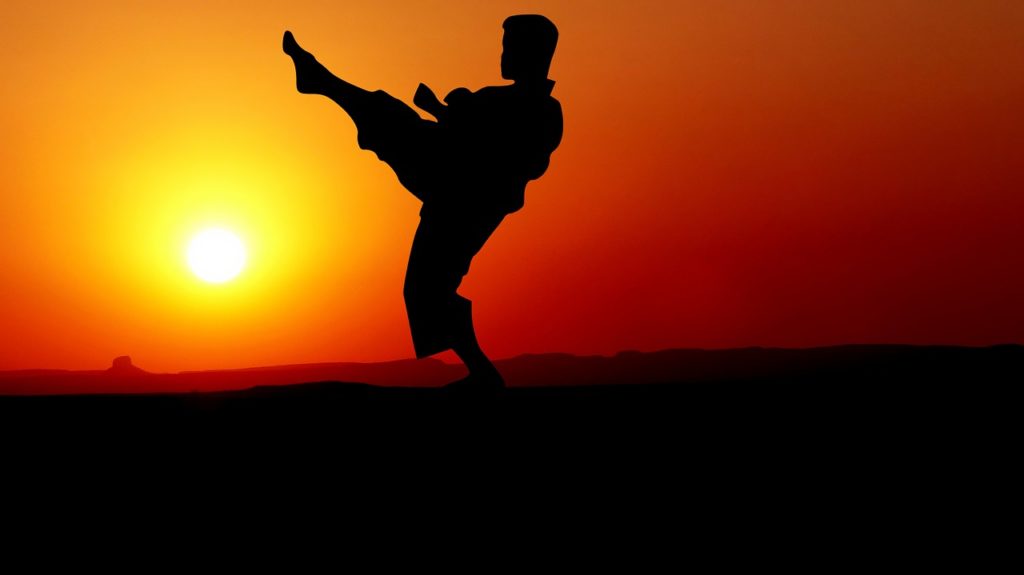 Can Ninjutsu be learned at home?
Ninjutsu is one of the martial arts that is definitely not learnable at home. Interested martial artists depend on an expert trainer as well as like-minded fellow athletes for this sport.
---
Why training at home is not enough:
This is due to complicated techniques involving throws and levers that are not easy to learn.
In addition, ninjutsu involves a school of falling. Beginners need soft mats to practice the falling techniques correctly. If beginners were to practice the forward roll on their carpeted floor, they could cause injuries that would demotivate them.
Partner exercises, of course, require a partner. Even casual dueling can only be accomplished with a partner and sufficient space.
However, there are a few useful exercises to do at home. It is about deepening basic techniques and building up a solid condition with fitness exercises.
---
What can be practiced at home?
Students can practice and reinforce the basic techniques they have learned at home. They have the opportunity to perform them with an imaginary partner. Students imagine an attack in their mind and perform the prescribed defensive technique. In practice, experienced trainers require their students to do this from time to time. This allows students to perfect their execution of the technique. Those who master this way of practicing excel in training.
In addition, ninjutsu practitioners can continue to develop both their agility and stamina at home. It is necessary to constantly expand this horizon. Only by doing so, martial artists achieve continuous improvement in their performance. Moreover, they feel better about themselves. Furthermore, thanks to this approach, their enthusiasm for ninjutsu increases. It is definitely worthwhile to work on flexibility and endurance at home.
Also the intensive perception exercises of Ninjutsu can be practiced by the students at home. Only those who put their hearts into it can acquire the skills of a ninja. Will, courage and perseverance are followed by discipline and motivation. The latter is reflected in a structured home training.
The 4 techniques of Ninjutsu
The best way to acquire Ninjutsu is through regular training. For this purpose, interested martial artists look for either a club or a private school that passes on this instructive martial art. Ninjutsu consists of the following four techniques. Those who first internalize them theoretically can also put them into practice.
Taihen Jutsu – Body School
In this technique, fighters first build up their stamina. Falling and balance exercises also increase stamina.
Tai Jutsu – Weaponless Close Combat
A variety of skills fall into this category. These include punches, kicks, throws and stabs with the fingers as well as toes on pain sensitive points of the attacker.
Close combat with weapons
In this technique, fighters train not only to use swords and sticks, but also classic throwing weapons such as stars or blades. They also transform everyday objects into dangerous weapons.
Cho Ho – Spy School
Cho Ho teaches good camouflage techniques. At night, the face and hands glow in the dark. Therefore, these parts of the skin must be camouflaged and if there is no woolen cap, a burnt cork will help. This should be lit by the fighters with a lighter, but do not let it burn completely, but burn it, extinguish it and then rub the face with the black side of the cork. The camouflage is ready.

Furthermore, fighters in spy school learn to live in harmony with nature when they run out of food and drink. Ninja fighters were instructed with regard to strategy, meteorology, healing, breathing as well as spirituality
Martial artists can deepen the mentioned exercises and focuses at home. They can improve their physical condition with a regular jogging. However, the execution of the leverage, throwing, punching or kicking techniques is only possible in school with a partner. However, friends can also step in for emergencies. Then the other techniques can also be performed at home.
Ninjutsu exercises for home
YouTube as well as numerous Ninjutsu textbooks supplement the knowledge horizon many times over. For the own four walls are suitable in any case, the exercises that do not require a partner. These include the movement sequences, falling techniques as well as breathing and meditation exercises.
---
---
---
The special gymnastics called Jûnan Taisô can be practiced at home even by beginners. In fact, they are doing themselves and their bodies a great favor. These serve to create the basics of a weaponless training. To some extent, these gymnastics give the impression that the trainees are practicing jerks and punches, while these movements strengthen, loosen and stretch the muscles. Breathing and standing exercises help to find the center. Thanks to these gymnastics, ninjutsu practitioners move much more naturally in everyday life.
How long does it take to learn Ninjutsu?
How long it takes to learn Ninjutsu depends on the desired level that students wish to achieve. However, experienced martial artists know that a master is merely a student who has never given up. However, beginners notice their first progress after only three to six months. The simple falling exercises such as rolling forward and backward, beginner techniques such as deflecting attacks, and lifting and throwing techniques are also easy to learn after three to six months, depending on their level of difficulty.
However, ninjutsu students should go to training at least two or three times a week. Ideally, there should be three training sessions with a day or two break in between. However, going to training once a week is definitely not enough.
Intensive training camps with your own club or with other like-minded people are also recommended. These workshops exist from time to time and are offered by experienced trainers.
Ninjutsu practitioners who want to participate in competitions, however, should train intensively for several years. On the one hand, years of training will give them a certain self-confidence and sense of security, and on the other hand, they will meet experienced ninjutsu fighters there. A beginner who has only been training for four months and loses in competition against a rival who has already been practicing ninjutsu for four years might give up demotivated. Therefore, experienced trainers recommend several years of training before considering participation in competition. In addition, however, masters are available to their students for advice and assistance. No responsible ninjutsu teacher will advise his apprentice to compete if he finds that he is not yet ready.
When can I defend myself with Ninjutsu?
People who practice ninjutsu two to three times a week for at least three months can also use the techniques taught to defend themselves. The defense techniques become second nature after a certain amount of time as an automatic response to an attack.
While students will not be able to use a technique like they learned in training in an emergency, they will not be helpless. However, they will not be helpless either, because they will not meet the situation unprepared. Long-time masters argue that good fighters need only five defensive techniques, which they master almost perfectly, to be able to defend themselves effectively. The same applies to self-defense with regard to the application of ninjutsu techniques in reality.