Tai Chi Chuan is one of the martial arts that is suitable for all people who have an interest in shadow boxing. Men, women, children and seniors can equally participate in training. All you need is a will and a strong discipline. This is because, unlike other martial arts, Tai Chi is not about full contact, but also about movement, meditation and physical exercise.

In the following article we present how well Tai Chi is suitable for individual groups of people. In addition, we focus on the individual focal points of the martial art.
In 30 seconds the most important thing:
Tai Chi Chuan can be learned with exercises without an additional partner.
Learning the martial art can be done from home. However, the supervision of a professional trainer is essential.
For self-defense reasons, Tai Chi Chuan is especially good for women.
How difficult is Tai Chi to learn?
Tai Chi Chuan is one of the martial arts that are easy to learn because of its sequences of movements called forms. The exercises are not to be compared with the demanding throwing techniques of Judo or Jiu-Jitsu. Another plus point, which stands for the easy learnability of Tai Chi Chuan, lies in the numerous exercises without a partner.
Can Tai Chi be learned at home?
Due to the techniques and forms, enthusiastic Tai Chi Chuan followers can learn this fascinating martial art at home. However, they must follow some rules for this. Those who want to learn shadow boxing in their own homes still need the instruction of a qualified teacher. This person can check the regular progress as well as correct any mistakes. Therefore, experts recommend switching to home training only after a certain period of practice with a qualified teacher.
Martial arts requires not only a high degree of discipline and stamina, but also a good sense of the body, including a strong sense of inner awareness. People who train should know why they are doing the form they are doing. In addition, exercisers should carefully plan the time they have available. In addition, individual goals play an important role in home training. Learners should be clear about what they want to achieve with the training they perform.
Furthermore, you should of course also think about these things:
A yoga mat or other soft surface
Sufficient space so that you can do all the exercises correctly
a TV nearby, so you can watch one or the other training video at the same time.
As mentioned at the beginning, Tai chi can be learned and is recommended for everyone. In China it is virtually a popular sport and is therefore practiced by all age groups.
Children
Tai Chi is very suitable for children. Thanks to this martial art they are introduced to the techniques in a playful way. They can only benefit from the exercises. On the one hand they train their body with the movements, on the other hand they train their mind thanks to the meditation exercises.

Meditation helps children find their inner peace and balance in today's fast-paced world dominated by digital media. In addition, they train their bodies to move at a young age. This in turn has a positive effect on their sleep quality. This, in turn, is essential for a good ability to concentrate at school.

Women
Women can also join shadow boxing. With regular training, they achieve an increase in their self-esteem and self-confidence. They also radiate this. Thus, they effectively lower the probability of being attacked by a perpetrator. D

he latter selectively choose their victims. Women who radiate a good dose of self-confidence thanks to their upright gait are usually not on the list of perpetrators.

Women with menstrual problems
In addition, women can alleviate or even completely eliminate menstrual cramps with the meditation exercises of Tai Chi Chuan. Furthermore, women who practice sports including meditation such as yoga or shadow boxing report a regular menstrual cycle, but before practicing it was marked by annoying irregularities. Thus, training for women has a positive effect on their overall well-being in many ways.
Seniors
Seniors can also join shadow boxing. The gentle exercises and forms are super suitable for older people. It keeps them moving and continues to strengthen their entire musculature.

Furthermore, they train their ability to concentrate and can effectively prevent memory problems. Thanks to a regular training they have an interesting leisure activity, which also effectively counteracted back pain, which often occurs with increasing age. Furthermore, the numerous joint exercises have a good effect on the entire body.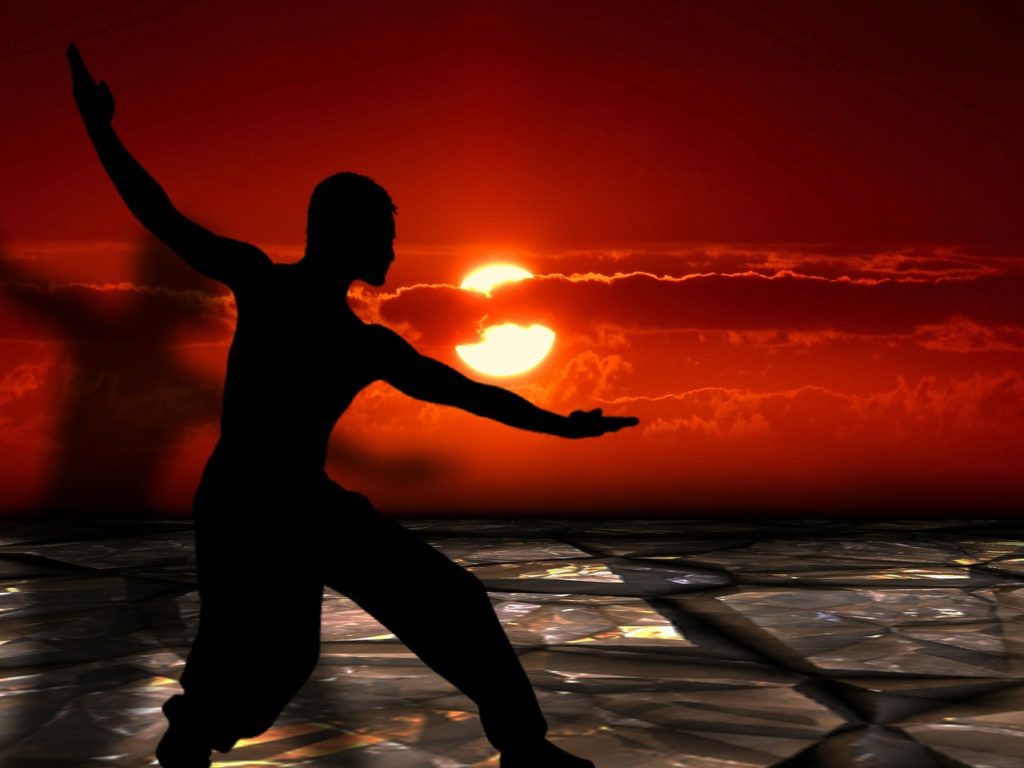 Learning Tai Chi in a club
Individuals who have decided to learn shadow boxing, should start looking for the nearest club. For starters, training under the guidance of a qualified teacher is essential. This applies not only to Taijiquan, but to any sport. Another advantage of joining a club is that you will meet like-minded people.
However, students also have the option of taking a course at an adult education center. There they do not have to sign long-term contracts. You can also visit a special Tai Chi school instead of a club.
And how to find the right club?
Interested beginners should generally avoid a long-term contract. This also tells them whether the teacher cares about teaching the martial art or about the money. Furthermore, beginners can ask the trainer how long he has been teaching Tai Chi. Also, the question about regular training is important and provides a good indication of the skills of the teacher.
Beginners should choose their Tai Chi teacher with great care and avoid teacher hopping as much as possible. This is especially true in the beginning. Experts advise beginners to focus on only one style for the first few years and to study it in depth. In this way, they build a good foundation. This then serves as a helpful tool for acquiring a further style.
In addition, beginners can attend Tai Chi meetings or festivals to exchange ideas with other practitioners. In this way, they can get a good overview of shadow boxing and their chosen style.
Update: 2023-05-28 / Affiliate Links / Bilder von der Amazon Product Advertising API