Tactical pants are part of the tactical clothing of emergency forces. They are designed to meet the different needs of military forces, security personnel, police officers, outdoor enthusiasts as well as survival followers. Their special material withstands extreme conditions without tearing. Tactical pants go through all the motions. They have reinforcements in the places that tear under heavy loads. Furthermore, their pockets act as effective means of transporting important items, weapons and magazines.
Important points in advance
Tactical pants do not let down security forces, police officers, military forces, survival and outdoor enthusiasts.
They can adapt to different weather conditions thanks to numerous additional features.
However, one of the most significant advantages of tactical pants is their absolute freedom of movement.
What distinguishes tactical pants from regular pants?
Tactical pants differ from normal jeans, jogging or cloth pants in a few ways. At first glance, you usually won't recognize the following differences:
Trouser cut according to movements: Experts have studied in depth the anatomy of the human body to create the perfect pants for survival, outdoor or military activities. In doing so, they took a close look at the actual movements of these professions. Thanks to this approach, tactical pants were created, which move with their wearers. In other words, they are cut optimally in certain places so that movement is not restricted by the pants: For example, squatting or a high kick.
Furthermore, these special pants are characterized by a low weight . This is indispensable when spending several hours or days outdoors. Furthermore, the pants do not hinder you in the event of a fight by a high weight.
Special reinforcements on the knees protect against unwanted tears. The thighs are also characterized by a practical stretch material. This allows you to move, jump, roll and fight without worrying about the strength of the pants. The fabric of tactical pants can even do the splits. With the help of protective pads you can increase the reinforcement of your tactical pants.
Extra-large pockets allow you to safely transport important items and magazines. Furthermore, these are immediately at hand. Sturdy belt loops stand for robustness. They are also tear-resistant.
Depending on your area of operation, you have the possibility to adapt your tactical pants to the external conditions. In cold weather, a practical extension with warming lining is made. If, on the other hand, you are operating in a warm environment, you will benefit from the well-ventilated fabric. The special fibers dry quickly and dissipate heat. Thanks to this construction, you will not sweat unnecessarily in hot temperatures.
Pants for military & police use
For military or security forces, not only the high demands on the material, but also the transport possibilities of weapons and magazines play a decisive role. High performance tactical pants are not only perfect pants for the military, but also for police officers and security personnel. These professional groups require a leg holster. Tactical pants allow them to attach the holster straps below the thigh pockets. Conveniently, they still do not obstruct access to the pockets at all.
Furthermore, security forces and police officers benefit not only from the functions of the pants, but also from their water-repellent material. They remain dry even in the event of prolonged rain.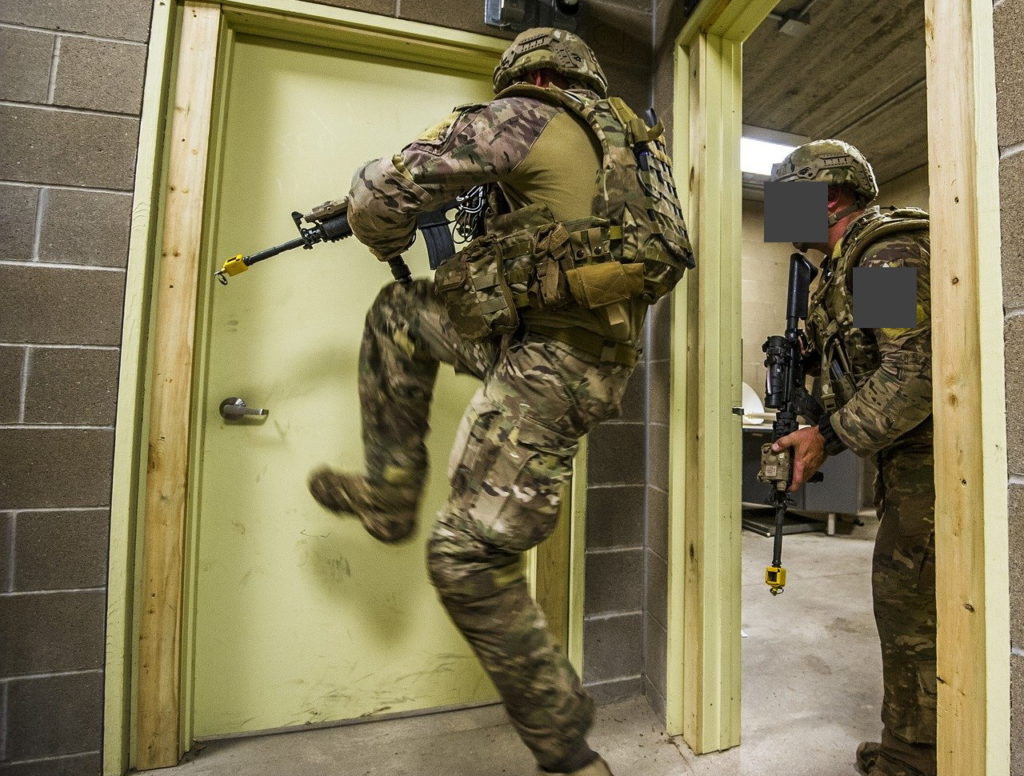 Here you will find a selection of popular tactical pants.
Update: 2023-05-28 / Affiliate Links / Bilder von der Amazon Product Advertising API