Tactical vests are an essential part of tactical clothing, they provide a few useful functions. Depending on their design, they allow you to carry important items ready to hand. Other models, in turn, protect against stings and bullets. Thus, they also have an important survival function. Furthermore, there are striking and inconspicuous tactical vests on the market. Read everything you need to know about military vests in our guide.
The most important things in advance:
Tactical vests act as an important support for troop deployments as well as security employees. Functions and many pockets make them a practical help in everyday life.
Paramedics, police officers as well as KSK task force members count on bulletproof as well as stab-proof tactical clothing. Outdoor enthusiasts and paintball fans always have important utensils at hand.
Sale
What distinguishes a tactical vest from a conventional vest?
Tactical vests differ from conventional fashion vests in many ways. They contain a special pocket, for example a compass pocket. Thus, you have your orientation aid in this special pocket immediately at hand. In addition, tactical vests for military or security personnel include height-adjustable small magazine pouches. Other notable extras include:
large magazine pouches
Equipment pockets
Pistol holsters
Map pockets
Pen holder
Water bottle pocket
Flashlight pocket
Radio pocket
Insert pockets for stab and or bullet proof inserts.
Adminpouches act as important pockets for your small items. This includes keys, smartphone as well as your ID.
A high wearing comfort belongs to the further advantages of a tactical vest. It is waterproof, warm, yet breathable.
Style options of military vests
You have a choice between camouflaged tactical and flashy vests. Which model you choose will depend on your intended use. If you spend a lot of time in the great outdoors, you'll need a camouflage tactical vest. This is similar to an original combat vest. This allows you to blend in with your natural surroundings without being immediately spotted. Common military camouflage patterns include:
Black
Olive
Camouflage
Woodland
Desert
Sand
Coyote
All-Terrain Digital (AT)
Army Combat Uniform (ACU)
Camouflage Central Europe (CCE)
Universal Camouflage Pattern (UCP)
Depending on the situation, vests must be either undetectable and invisible or highly visible. This depends on the wearer and their activity. Security employees wear a highly visible tactical vest. Emergency physicians and paramedics also need conspicuous vests that reflect their status. Military personnel, on the other hand, require either camouflage vests or tactical vests, which are invisible. Security forces who are on the move as bodyguards also wear invisible tactical vests under their shirts and suits.
Protection from wind & weather
A tactical vest is characterized by its high adaptability with regard to the weather. Compared to a conventional underjacket, the tactical version is weatherproof. It adapts to the external conditions.
In cold weather it warms your upper body. In summer , in turn, the material prevents excessive sweating. Practical ventilation properties of the tactical vest allow you to wear this undergarment in high temperatures.
If you are traveling in a windy area, you can rely on the wind protection function.
In the rain , however, you have a very low protective function. The vest dries quickly, but does not protect you from rain like a jacket.
In addition, tactical vests can be put on and taken off quickly. Despite their numerous functions, they are not immediately recognizable under conventional clothing. In addition, there are completely invisible variants of tactical protective clothing.
Protection against attacks
Protection from attack is another important function that a tactical vest has. This feature is one of the most important functions of a tactical vest.
Many models are stab resistant and protect against various bullets. The practical stab protection defends against violent attacks with batons or knives. Furthermore, a specific fiber fabric acts as an effective protection against strong kicks, punches as well as internal injuries.
Other models without integrated stab protection offer pockets for special plates. Thus, the vest can be "equipped" accordingly, depending on the mission.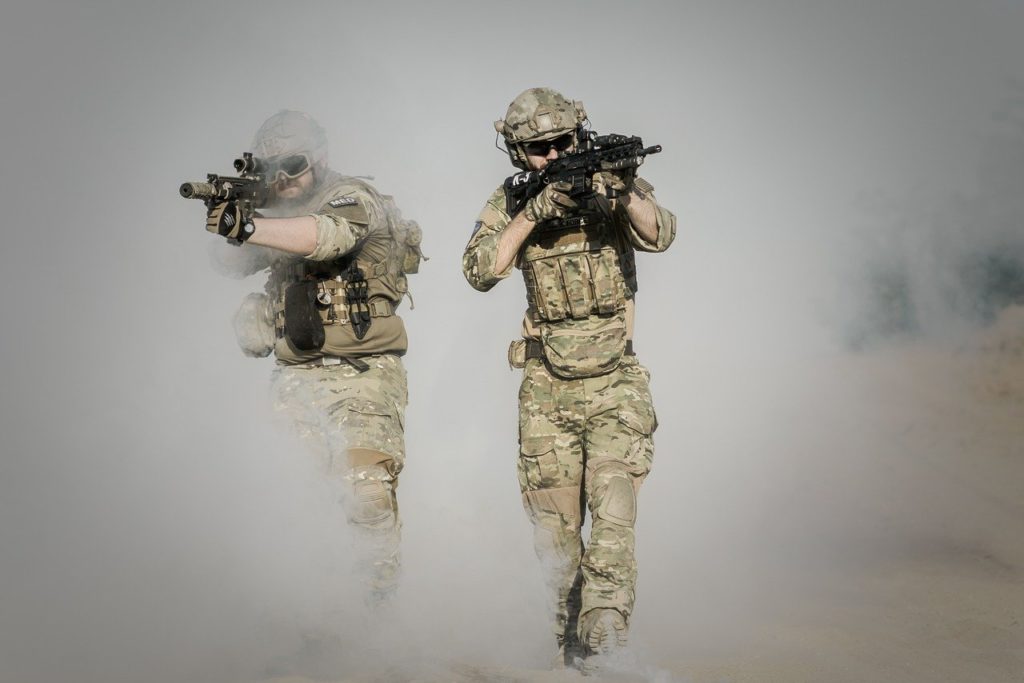 Tactical vest for emergency forces
It plays an important role, for what you want to use the tactical vest.
If you are a police officer, you will need a vest that can reliably repel ballistic projectiles. However, you have the option of upgrading your safety vest with the help of special plate carriers. These plates and special penetration-resistant synthetic fibers have proven themselves in practice many times.
Tactical vests of the KSK forces score with further protective measures. They protect the neck, shoulder and abdominal areas from possible gunshot wounds.
Rescue workers also wear tactical vests. They also meet many of the needs of this occupational group. Paramedics and emergency doctors use them effectively as they perform their actions automatically. They are almost dependent on this vest. Thanks to it, they perform the movements without thinking. As a result, rescue workers save a lot of time.
Meanwhile, bailiffs and law enforcement officers also protect themselves with tactical vests. However, they wear them invisibly under their normal clothing.
Tactical vests are also used for paintball . Vests that are used during paintball training are similar to the tactical clothing worn by the KSK task forces. However, for the aforementioned recreational activity, these do not feature metal plates that are bulletproof. Instead, special EVA foam panels protect vest wearers from injury.
In terms of survival functions, tactical vests impress with their arrangement of pockets. These allow finding the necessary items within a few seconds.
Simply get an overview of the offer online. For less than 50€ you can already buy tactical vests – but if you expect stab- or bullet-proof inserts, you will have to dig deeper into your pocket.
#
Preview
Product
Rating
Price
1
Lixada Taktische Weste Herren-Outdoor Weste mit Taschen- Tactical Weste für Jagd Angeln Camping...

39,99 EUR

38,99 EUR

Amazon
2
ProCase Taktische Sturmweste Jagd Armee Weste Herren, Militär Airsoft Paintball Tactical Vest...

39,49 EUR

Amazon
3
QHIU Taktische Weste Plate Carrier Camouflage Molle Schutz Multifunktions Kampf Militär...

19,95 EUR

Amazon
4
Urban Classics Herren Weste Men Tactical Vest Jacke, Black, L

44,90 EUR

37,30 EUR

Amazon
5
OneTigris Plattenträger PLPC Taktische Weste - Version 2.0 Plate Carrier Airsoft Weste...

139,99 EUR

Amazon
Update: 2023-06-09 / Affiliate Links / Bilder von der Amazon Product Advertising API