Judo can also be learned in childhood – but it is often disputed among parents whether a martial art is suitable for children. However, to see judo only as a martial art would be short-sighted. Judo training for children is also about movement, team sports and the exchange with peers.
In 30 seconds the most important thing:
Yes, in our opinion, judo is very suitable for children (4 years and older)
Judo is a relatively "peaceful" martial art, therefore well suited for children
Martial arts or judo has a number of positive concomitant effects that can help children in personality development, school, etc. (see below)
Is judo suitable for children?
There are very many clubs that accept students as young as 5 years old. This may seem very early to some of you, but it makes sense, since judo children are trained not only in pure martial arts, but also in personality development.
To anticipate the conclusion: In our opinion, Judo is a relatively "peaceful" martial art that can be started at a young age(from 4 years old).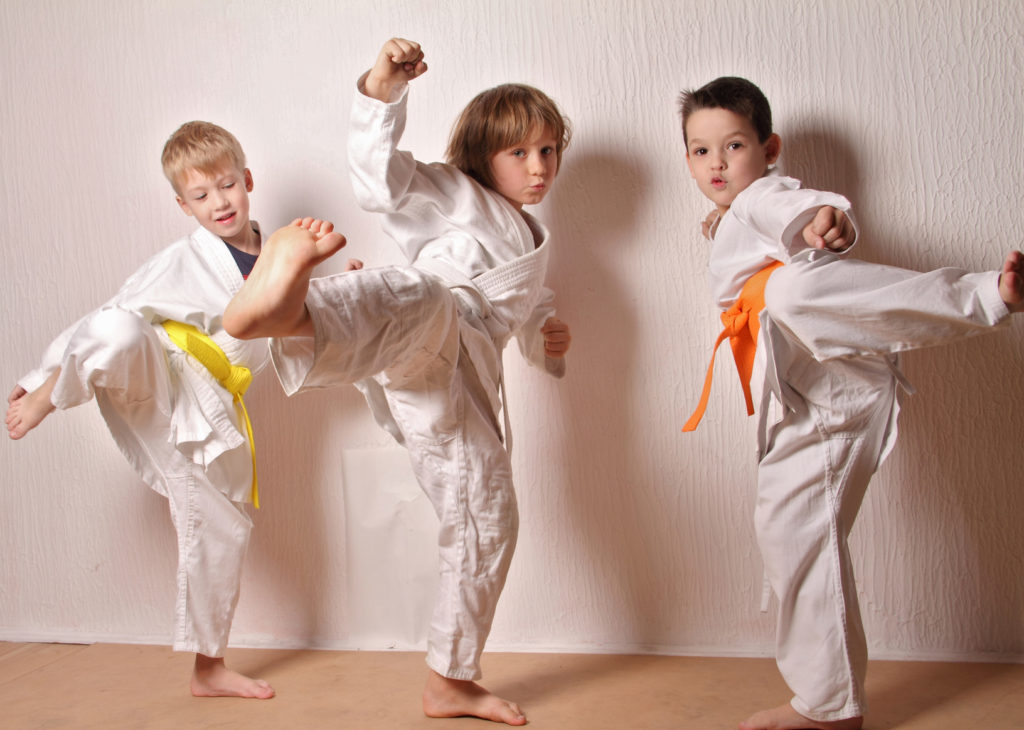 ---
Risk of injury
In various sports, for example soccer, there are regular crashes when children clash. When riding a bicycle, falls are also inevitable at the beginning, and if the child climbs a tree and falls, injuries also occur. Judo is no different in principle; here, too, it happens that a child twists his ankle or gets a bruise.
In other words, since everything is new for children at first and they have to get to know things first, they will also get hurt sometimes and learn from it.
---
Personality development
Especially in the beginning, when a new student joins, it can quickly come to quarrels, because he does not yet know the rules in the dojo or feels disadvantaged. Basically, a certain dynamic always develops in groups, roles are taken and it also comes to quarrels.
But this is more of an opportunity than a danger. Children learn to deal with their fellow human beings in a playful way, to solve conflicts (in a non-violent way, of course), to have respect for each other, to act in groups and, in the end, they are sure to make new friends.
In addition, there is the trainer, who can react appropriately in the case of quarrels that get out of hand. So your protégé is in good hands.
---
Overtaxing the children?
Another danger is overtaxing your child. Basically, the belt examinations are structured in such a way that the judo children can pass the respective higher challenge as their training progresses. However, if this is not the case with your child and the learning progress does not take place, then you should, instead of immediately throwing in the towel, first consult with the trainer.
It may be possible to find a way to avoid stopping the training, as this would be tantamount to surrender, which would deal a serious blow to your child's self-confidence.
---
Positive side effects
In the video you can see a typical judo training for children, positive accompanying effects include the following.
One effect that you as parents will notice very quickly is significantly improved coordination, which can quickly translate into better sports grades.
In dealing with the group, your children learn the ability to find their way in groups and to feel a certain discipline towards the coach or the judo training.
The growing self-confidence through overcoming challenges, especially belt exams, will still be of use to your child in later life.
In addition, every hour the child spends in the dojo is an hour of sport that he or she is not sitting idly in front of the TV or Facebook Messenger. Especially in a generation of youth who are at risk of only leaving the house to go shopping, early club membership can't hurt.
---
Video: Judo kids training
To get an idea of a Judo training for children, just watch the following video. Here the playful approach of the training becomes clear.
Conclusion: beneficial for body and mind
Judo kids training is beneficial for both body and mind. The trainers in martial arts are mostly pedagogically trained personnel and know very well how to isolate the meaning of self-defense in an emergency from the use of senseless violence. This is to say that judo children, despite their knowledge of fighting techniques, are no more likely to get into fights than their classmates without instruction.
On the contrary, it is often seen that children who receive martial arts instruction do not enter this physical level of conflict so recklessly and act more calmly in conflicts.
Furthermore, the supervision of the trainer will benefit your child in any case. He will take care to motivate insecure children through small successes, so that they come out of themselves more and dare more. On the other hand, the trainer will bring overconfident students back down to earth, but without demotivating them.
Above all, of course, there is the constant cooperation of all the children, without which no effective training would be possible at all. This is probably where the trainer's greatest point of activity lies buried: creating and maintaining a positive attitude towards sports. All in all, you can see that the advantages of judo training for children are clearly superior to the dangers and the children are promoted in various areas of life and the training as well as a judo suit is also not too expensive. So you are welcome to try it.
Update: 2023-05-28 / Affiliate Links / Bilder von der Amazon Product Advertising API