The Israeli martial art has become increasingly popular in recent years, but it is by no means new. The Krav Maga origin can be traced back in its original form to the Second World War
How it changed and what has developed from it until today, we want to show you in the following.
The most important things at a glance
Krav Maga is used by private individuals, police and military for defense, de-escalation and close combat. The technique for self-defense is easier to learn compared to other martial arts, because instinctive movements and reactions are built into the techniques.
Krav Maga is effectively focused on defense and emergency, and therefore one of the best martial arts for self-defense.
---
Once you have found your joy in Krav Maga, it quickly becomes a sport that is practiced with passion. At the latest then the interest to learn more about the martial art increases, more about this in the following:
To get a small impression of the effectiveness of Krav Maga, you can watch the following Krav Maga videos. Watching them, it becomes clear that Krav Maga has a strong focus on effectiveness. Other martial arts often have a different focus (agility, meditation, etc.).
Meaning and characteristics of Krav Maga
The name comes from the Hebrew and can be translated simply.
krav = fight
maga = contact
Thus, Krav Maga is usually translated as "contactfighting", which you can imagine as fighting in close quarters, i.e. hand-to-hand combat. However, the name can be a little deceptive, because in Krav Maga not only fighting techniques are taught, but also violence prevention and de-escalation.
Krav Maga forms an effective self-defense system at a time when personal safety is increasingly becoming a concern for German citizens. The principle of keeping the number and difficulty of techniques low ensures that anyone can learn Krav Maga. So, all in all, you will find here a well thought-out and up-to-date fighting system for strengthening self-confidence and self-defense in everyday situations.
Despite the different organizations and associations, there are no fighting styles in Krav Maga.
This is simply because there are no competitions in Krav Maga. It is a pure defense system, which specializes in teaching you techniques with which you can defend yourself from various situations in an emergency.
There is only a distinction between Krav Maga for private individuals, for security forces and for the military. The basic system is the same, but the emphasis is different. In private, the focus is on self-awareness and self-defense; for police officers and other security forces, the focus is on protecting others and de-escalation; and in the military, it's all about sheer confrontation one-on-one.
You could say that each one of you will develop your own Krav Maga style, but a general distinction does not exist.
Krav Maga is also fundamentally different from the vast majority of other martial arts when it comes to rituals. Many associations in Germany have no rituals at all, or only a few, as far as greetings or farewells are concerned.
In some federations it is customary to line up in a row opposite the trainer, as in Judo and Karate, and to start with a slight bow at the command "Kida". This means nothing more than "bowing" and represents the original variant, but is not practiced everywhere, at least in Germany. Other clubs merely shake hands, while still others simply say "hello".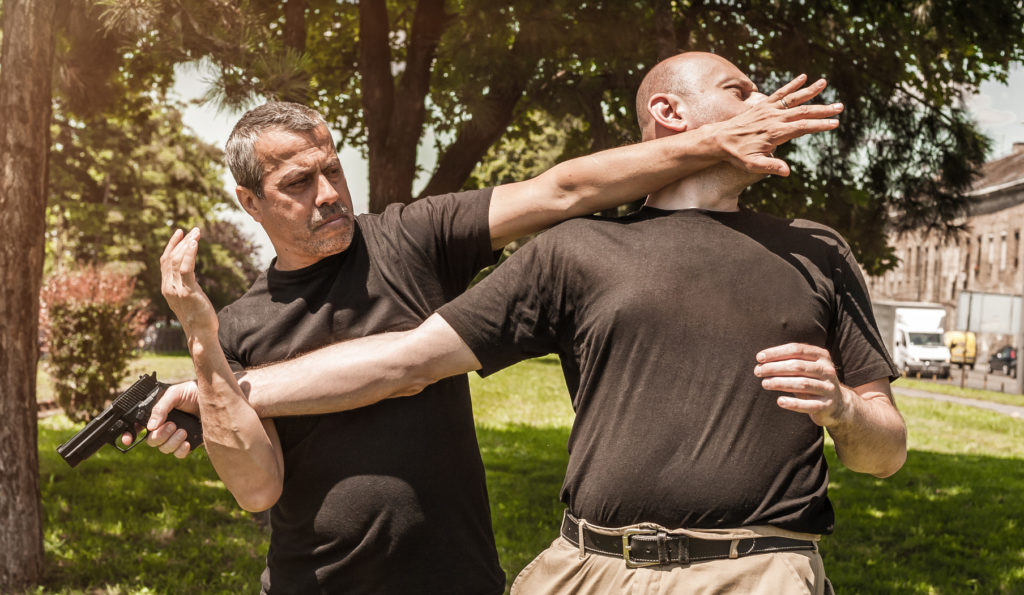 How does Krav Maga training work?
Learning Krav Maga does not mean training examination programs, but learning how to avoid violence and how to use it in doses in an emergency. Therefore there are no clearly defined training procedures. We only give you an example of how the Krav Maga training could look like:
Warm-up and stretching – A few warm-up exercises are part of every athletic training session and last 15 or 20 minutes.
Theory – Some basic understanding of one's own body, the forces at work and the limits is taught.
Exercise without partner – This part is similar to the basic school in karate or taekwondo. Here you should practice for example fist or leg techniques without endangering a partner. This can be done against the air or on the paws.
Exercise with partner – To use the learned movements against a moving opponent is the basis of Krav Maga. Here you will practice defense and counterattack against known techniques.
Self-defense – Here you will learn, for example, to free yourself from clutches, to counter armed attacks or to control an opponent without permanently injuring him. You could also simulate the emergence of a violent situation in role play.
Situation Training – Controlling your body under stress is also part of the training program. This could be like using claws on an opponent while another opponent attacks you at a random time, which you then have to defend against.
International Krav Maga Federation(IKMF)
German Krav Maga Federation(GKFM)