The self-defense umbrella has the advantage that it can be carried almost everywhere as an everyday object and – in rainy weather – is not conspicuous. What else makes it an exciting self-defense weapon, how to use it, we present to you below.
The most important in 30 seconds
Inconspicuous object – the self-defense weapon provides surprise effect on attackers
Increases range and can be used against multiple enemies and weapons, such as knives
Effective for defense only for people with fitness and strength
Defense-Regenschirm
Ideal zur Selbstverteidung, Nahezu unzerbrechlich
Elegant und unauffällig, Farbe der Bespannung: Schwarz
Länge: ca. 95 cm, Durchmesser: ca. 110 cm
Structure of a self-defense umbrella
This is a normal umbrella in appearance, and can be used as such. However, the structure is designed for defense against weapons and enemies.
---
The rod: Hard core
The pole of thesafety umbrella is made of a fiberglass composite, and some models also have metal elements processed – in other words, a hard, stable core. Most self-defense umbrellas can withstand loads of 70kg or more, the weight of an average person, while weighing only between 600 and 800 grams themselves.
This means that a fist blow or a blow with a baseball bat, a weapon such as a knife, etc. can also be repelled excellently. A normal umbrella would break, it is almost unbreakable.
---
The pommel: club included
There are defensive umbrellas with a handle made of sturdy wood, others have a hook made of hard plastic. We recommend choosing a model with a pommel instead of around hook handle, because with it you also have a club that can be used as a baton in the context of self-defense.
Due to the fact that the umbrella has a length of about 90cm – 100cm, you will have a lot of momentum. With this power, an effective blow can be executed with thepommel handle, which can put your attackers out of action and give you time to escape.
---
The tip: Effective blows
The tip of the defense umbrella is also designed to repel attackers. With the sturdy metal tip, you can use stabbing techniques to deliver painful blows. You'll be even more effective if you have combat training and know the body's pain points.
When attacked, a blow to the stomach area can incapacitate the attacker and give you time to escape. If life and limb are truly at stake, your safety is paramount and your actions will likely be construed as self-defense. Even a blow to the face and neck area with the steel tip can incapacitate your attacker. But it can also lead to serious injuries, you should be aware of that.
How to use the self-defense umbrella
The self-defense umbrella can be used for almost any occasion. With it, you can keep an opponent at a distance, defend yourself against other blunt melee weapons, and even disarm the attacker, though the latter requires a certain amount of training.
---
Sprawl: Confusion & Screen
By raising yoursecurity screen, you block your opponent's view of you and cause him a brief moment of confusion.
This second, if you use it correctly, can decide the fight by rewarding this carelessness with a low kick, for example.
Furthermore, if the attacker has a gun, he will not be able to shoot at you or the pepper mixture will hit him rather than you
---
Striking with the pommel
In general, you need a certain amount of strength for the operation, but the umbrella can serve you as an extended arm so that you don't have to enter the danger zone with your own body. This is especially important if the attacker is carrying a weapon himself.
If you use the leverage of the umbrella properly, it can quickly become a serious melee weapon. Especially if you use it double-handed, a lot of power can be expended.
Of course, it is especially effective against sensitive areas such as fingers, hands, arm and leg joints, abdomen, ribs and of course against the head.
But be careful, when striking you should be careful not to take away your defensive shield.
---
Stabbing with the tip
The tip of the umbrella can also keep attackers at bay. With a powerful blow to the abdomen, you can incapacitate the attacker.
Try to hit the ribs or the abdomen with the thrusting techniques
Attention: head, neck and eyes will also produce a painful effect. But here permanent damages are to be assumed, use the umbrella only in the context of self-defense!
---
Defense against attacks
If the attacker has a weapon, thesecurity screen can also serve you as a means of self-defense. This applies to almost all types of weapons.
When attacking with a knife, brass knuckles, stun gun or other close combat weapons, you can keep the attacker at a distance. The fiberglass composite can withstand a lot
You can deflect a shot with a scare gun by raising the umbrella, if you can raise it fast enough.
A punch or kick can be deflected with a counter punch or a push with the tip.
Even if attacked with a baseball bat, the blow can be averted with the self-defense umbrella.
With the help of thrusting and grappling techniques you have the possibility to keep the attacker at a distance
Training needs & use against multiple opponents
This is a simple, blunt melee weapon that amplifies and transmits your own power. However, it requires a lot of practice to become familiar with its use in an emergency. There are many videos circulating on the Internet, in which martial arts professionals defend themselves with the everyday weapon against multiple opponents from all directions.
Freddy Kleinschwärzer shows umbrella as a means of self-defense
This works, but these people have several years of experience in martial arts and self-defense.
One possibility for you would be to attend a self-defense course, because the use of such simple weapons is trained here as well, or, if you have the possibility, a course in Krav Maga. In both cases, you will be shown how to use common objects as weapons and be taught many other useful tricks.
If you don't have a chance to get professional help, just practice the application with a friend. Pad your clothes and practice defending different attack situations against each other. The only mistake you should not make is to rely on the defense screen unprepared. A melee weapon is only as good as the person wielding it.
You can't easily break free from an entrapment with the help of the umbrella. However, if you see the enemy coming, it is a valuable help. With the unbreakable umbrella for self-defense you always have a kind of baton ready, which you can always legally take anywhere and protect yourself.
The 3 key advantages of the defense umbrella
We have already offered some tips on defense and also on weapons for defense, but the defensive umbrella has three particularly positive features.
1. Transport in public
The defense umbrella is and remains an umbrella. It is not classified as a weapon and you can carry it everywhere. Even on the plane you should not have any problems with it – unless it is against the regulations for hand luggage. Many other defensive weapons you can not easily carry with you, require a small arms license or you are not allowed to carry without further ado.
2. All-round defense weapon
This makes it possible to strike and thrust with the umbrella without it breaking. The handle, the pole and, in many models, the tip can be used equally as a means of attack and defense. The reinforced rod also allows you to use it as a lever, for example to free yourself from a stranglehold. This also allows the use of leverage techniques.
3. The surprise effect
The biggest advantage of the self-defense umbrella is that the attacker does not necessarily recognize it as a self-defense weapon and therefore does not pay attention to it during the actual attack. Thus, in most cases, you have a first action free before your opponent focuses on the actual weapon.
Buy self-defense umbrella
You won't find the umbrella for self-defense in the drugstore next door. We recommend to check the offer from Amazon. In the following you will find suitable offers.
FAQ about the defense umbrella
Below you will find a series of answers to common questions about the defensive weapon.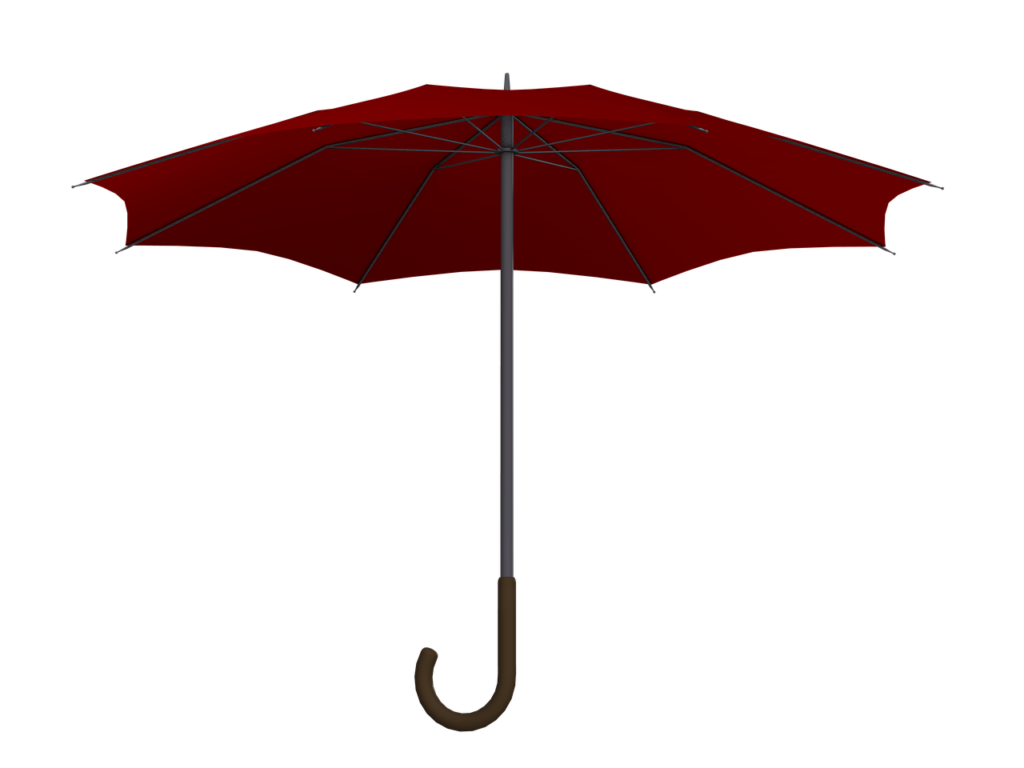 Update: 2023-05-28 / Affiliate Links / Bilder von der Amazon Product Advertising API