The training halls are often cold in winter – and you train barefoot – or not? Taekwondo shoes are not for everyone, we present advantages and disadvantages as well as suitable models. Furthermore, you will find answers to a number of frequently asked questions.
In 30 seconds the most important:
Wearing training shoes is a matter of taste: in winter they can be useful, but it limits your sensitivity.
Should you have circulatory problems, etc., wearing Taekwondo shoes is definitely worth considering, especially in winter.
Look for a good fit, soft uppers, and cleanability (ideally with a washing machine)
The feeling is of course even more accurate barefoot than with shoes, but not everyone wants to train barefoot Taekwondo, because especially in winter you quickly get cold. And for those who are already frozen, Taekwondo training becomes a torture. Below we present you a few answers to FAQ about the Taekwondo shoes.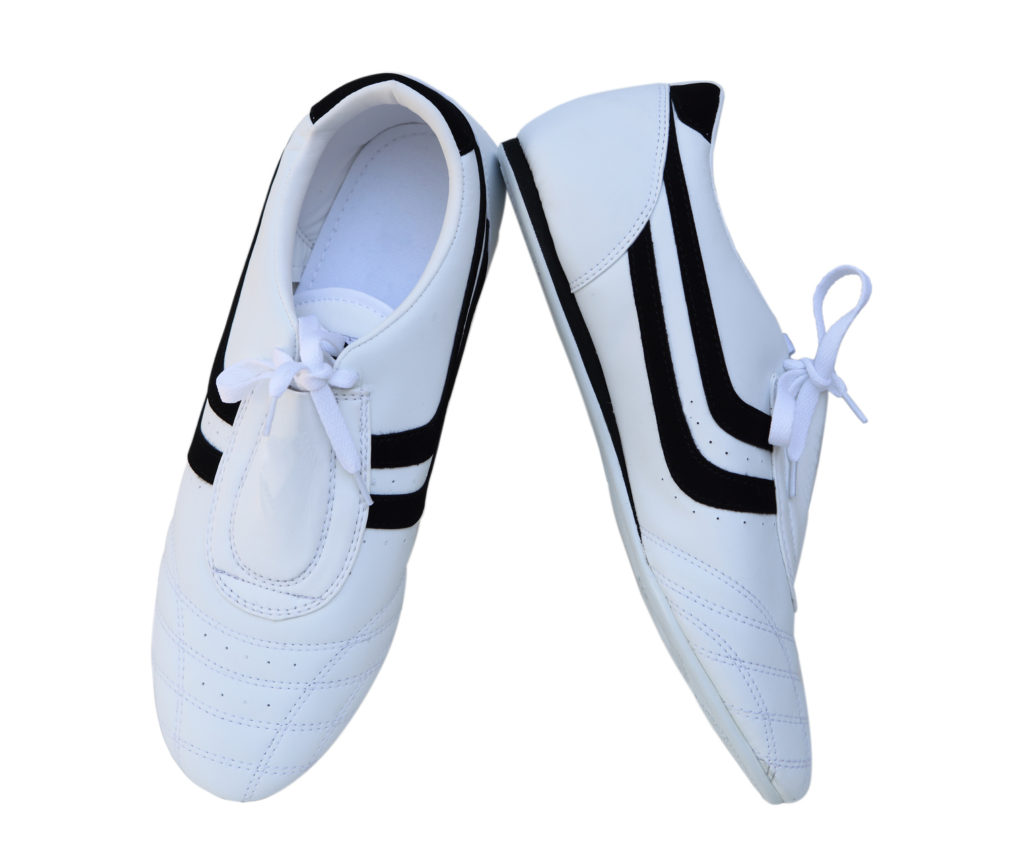 When Taekwondo shoes are a real help
The shoes are to perform various tasks and are available in different designs with various materials. As a rule, taekwondo is trained barefoot.
The main reasons why a Taekwondoin wears shoes during training are, for example, foot injuries after which the doctor advises wearing shoes.
They can also warm the feet and toes during outdoor demonstrations or in winter and cold training halls where the feet are at risk of getting chilled.
Wearing shoes can also be useful for beginners, as this means that the feet are not put under quite so much strain.
Advantages and disadvantages of training with shoes
The advantages of Taekwondo shoes clearly speak for wearing shoes: they protect the heel and ball of the foot from too much influence from the ground, keep the foot much warmer on icy floors and separately support the midfoot to prevent injuries when kicking.
However, the disadvantages of training with shoes cannot be completely dismissed: They change the feel, especially in terms of ground contact, and may cause the taekwondoin to rehearse distorted movement patterns. In addition, when training for competition with shoes, there is a higher risk of hitting the practice partner awkwardly.
Are shoes allowed in competition?
Here is probably the biggest problem: since in competitions under the WTF foot protectors belong to the mandatory equipment, you can not wear shoes in addition.
This means that if you train with shoes for years, you suddenly have to fight without them on competition day. The changed feeling on the ground could cost you points, so it is better to practice without shoes and with competition equipment for a certain period of time before the competition.
What are the variants of Taekwondo shoes?
The most common type has an upper made of leather, imitation leather, polyester or canvas and a sole made of soft rubber, plastic or even polyurethane (PU). Various combinations of the materials are possible. This variant is somewhat complicated to clean, but with proper care can be used for a long time.
The second variant are the soft slippers made of 100% polyester, as they are offered universally for many martial arts. These are not quite as slip-resistant as a rubber sole and not quite as durable as artificial leather, but can be cleaned easily.
Well-known manufacturers of Taekwondo shoes are for example Adidas, Kwon, Wacoku or DanRho.
Care and cleaning of the shoes
With the first variant with plastic or rubber soles, you need to pay much more attention. The leather surfaces must not be soaked, otherwise the leather becomes brittle, so you should clean them with a damp cloth at most. Furthermore, it is recommended to treat the leather components with care every few months so that they remain supple.
The 100% polyester version is much less complicated, as the material can withstand water without any problems. You can comfortably wipe these shoes with a wet cloth, clean them by hand in a water bath or even machine wash them at up to 40°C, as long as you deselect the spin cycle in the wash program.
However, you can usually find instructions for cleaning and care in the manufacturer's instructions.
Is there no specialty store near you where you can buy taekwondo shoes? Then look online, there is a wide range of shoe models:
#
Preview
Product
Rating
Price
1
Kwon Kampfsportschuhe Dynamic, Gr.-43, Schwarz

29,49 EUR

Amazon
2
KWON Trainingsschuh Chosun Plus in 2 Farben, Schwarz EU 43

32,44 EUR

25,15 EUR

Amazon
3
KWON TKD Schuhe Chosun Plus, weiß, Größe 44

25,84 EUR

Amazon
4
Taekwondo Gloves and Boxing Shoes

1,29 EUR

Amazon
5
NOT ALL ATHLETES WEAR SHOES: Notebook lined format a5 (6x9) | 120 pages Log Book Organizer Karate...

7,99 EUR

Amazon
Conclusion – shoes or no shoes?
It will remain a case-by-case decision for each beginner whether they need to buy taekwondo shoes.
One person has problems with rough or broken feet and the other does not. It is the same with cold feet.
It is not so much about your ability to suffer, but more about your blood circulation. If it is good, no problems should arise, with poor circulation, especially the toes cool down quickly.
If you are one of those who have sensitive feet, you should think about a pair of shoes, at least for the beginning. Otherwise, just keep having fun with taekwondo and don't fix anything that isn't broken.
As you mature into an experienced taekwondo practitioner, you will certainly train without taekwondo shoes (except in the winter, if necessary). The main reason for this is that there should be no difference between training and competition, otherwise there is a "break" and in competition every little thing counts.
Update: 2023-05-28 / Affiliate Links / Bilder von der Amazon Product Advertising API