Tae Bo is not a classic martial art, but rather a sport that combines typical martial arts elements from karate, kickboxing or taekwondo with aerobics. Tae Bo is usually practiced in workouts with fast music
Accordingly, it is more of a fitness sport that trains the entire body and less of a self-defense technique.
The most important at a glance
Tae Bo is a strenuous sport that combines style elements from aerobics and martial arts, but is not a pure combat sport. The sport was invented by Billy Blanks between 1980 and 1990.
Tae Bo stands for T = Total commitment, A = Awareness, E = Excellence, B = Body, O = Obedience.
---
Who is the martial art suitable for?
Tae Bo is a physically demanding and challenging sport. It helps to keep the body fit and relieve stress. Thus, it also helps to stay in inner harmony. By combining several martial arts, Tae Bo is versatile. Nevertheless, the sport is quite easy to learn even by beginners. Unlike other martial arts, you do not fight against an opponent, but practice the movements of martial arts only for yourself. Therefore, there is not such a high risk of injury.
Tae Bo is basically suitable for everyone. Whether man or woman, anyone who wants to become physically fit and learn a few martial arts movements in a dynamic way, is well advised with this fitness sport.
Almost all muscle groups are used, but knee joints and elbows are spared. In addition, the frequencies are increased, so that the fat burning is cranked out. Especially people with overweight therefore like to choose Tae Bo to lose a few kilograms.
But Tae Bo is also suitable for stressed persons who want to strengthen their own ego.
Children and teenagers enjoy the sport just as much as older people, because not much strength is required. Since there are only eight basic techniques that you need to learn, you will also master Tae Bo much faster than would be the case with most other martial arts.
Also interesting:
Graduation or training level in Tae Bo
In many martial arts there are belt colors to recognize the current training level of participant and trainer. Following this principle, in Tae Bo there is a graduation distinction by colored bandages. They are worn by both the participants and the trainers.
With white band ages every participant gets in. No special bandage workshop is required for this and no exam needs to be taken.
The first graduation level that participants can reach is the "First StudentDegree". It is marked by yellow bandages. To receive this "upgrade" you must attend a technique workshop. It will be conducted by a Tae-Bo Basic instructor with blue bandages. In order to successfully pass this workshop, it is important that you have mastered techniques 1 through 8.
The "Second Student Degree" is marked by orange bandages. Again, you must attend a technique workshop conducted by a Tae-Bo Basic instructor with blue bandages. In order to participate, you will need the yellow bandages. In addition, both your technique and performance level should have improved from the yellow band exam.
When you reach the "Third Student Degree", you will receive green bandages. This degree is the preliminary stage to enter the Tae-Bo Basic Instructor Training. This time you will attend a technique workshop from an Advanced Instructor who already has red bandages, or alternatively from a Master Instructor with black bandages. In order for you to participate, the orange bandages are required.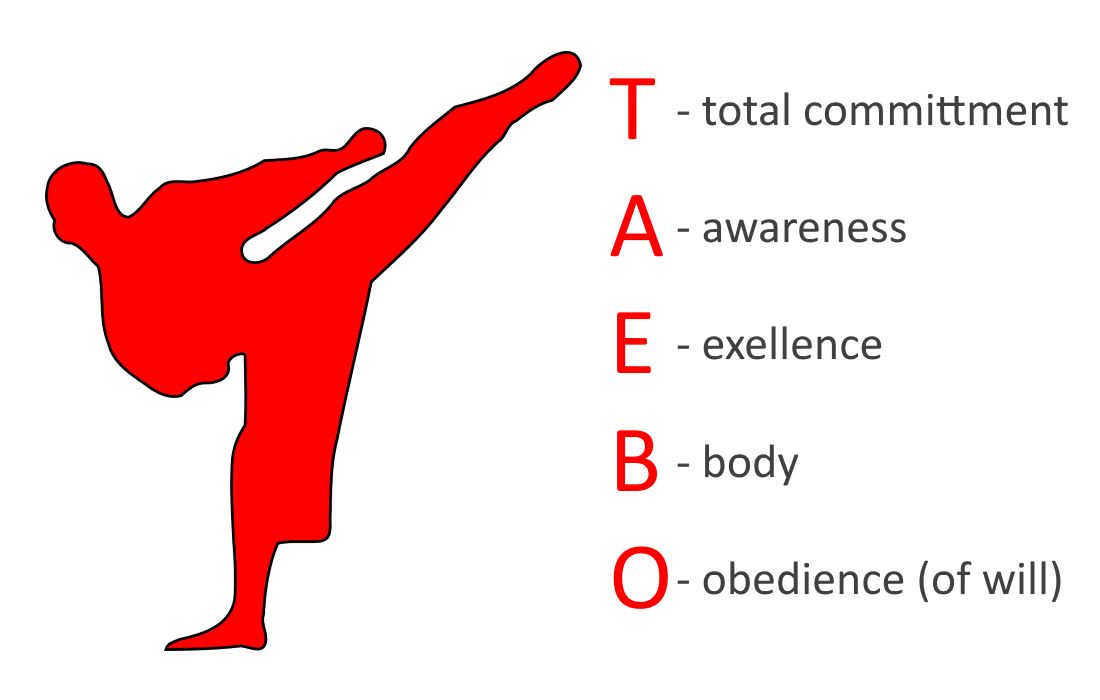 Training level of the instructors
There are also two instructor degrees:
To become a Basic Instru ctor, the blue bandages are required. To become a basic instructor, you need the blue bandages, which require eight days of training by IFAA instructors. Once you have passed the two-day theory and practical exam, you can independently teach Tae-Bo classes and conduct the exams for yellow and orange bandages.
After that, it is still possible to advance to Advanced Instructor, where you will receive red bandages. For this you must first have the blue bandages. After that, you can go through another eight-day training, which you complete with a two-day final exam. Once the exam is passed, you will also be able to offer Advanced courses and take the exams for yellow, orange and green bandages.
Video: Tae Bo Cardio with Billy Blanks
To get a feel for how a Tae Bo workout goes, check out the following video of a workout session by Billy Blanks.