Kickboxing is one of the few martial arts that was not founded in the Far East, but the origin is clearly in Asia. It is known for its toughness, but also for its effectiveness.
In our Kickboxing Wiki you can learn a lot of background information about kickboxing, what it is all about, how a training runs, which federations there are and much more.
The most important things at a glance
Kicking and punching techniques dominate kickboxing. Throws and levers, on the other hand, are prohibited. Kickboxing is a young martial art that combines elements of Muay Thai, boxing and co. The competition discipline has only existed since 1974.
Kickboxing is regularly criticized as a hard combat sport. However, the sport can also be used for defense and increase fitness.
---
Articles about Kickboxing
Kickboxing competitions are, compared to other martial arts, a very physical sport. Below you will find a few kickboxing videos with competitions and training sessions.
Kickboxing: background, exercises and tips
Kickboxing is one of the few martial arts that was not founded in the Far East, but its origins are clearly in Asia. In our kickboxing wiki you can learn a lot of background information about kickboxing, what it is all about, how training works, which federations exist and much more.
You don't need any special kickboxing equipment for a first trial training. However, if you like kickboxing, you should buy the necessary equipment.
Differentiation from other styles
Kickboxing has a few key differences from other styles that use kicks and punches. The following are the most distinctive:
Externally, kickboxers can be distinguished from "conventional" boxers at first glance because they wear foot protectors. These, due to the prohibition of foot techniques, are not used in normal boxing.
The similarities with Muay Thai (Thai boxing) can already lead much faster to confusion, because these two sports on some Internet sites merge into one. German clubs also like to combine them.
You can see the difference by the fact that Thai boxers do not use foot protectors, but at most bandages. There are also serious differences in the techniques that conform to the rules. The shin kicks and knee kicks allowed in Muay Thai are much more dangerous than the techniques in kickboxing.
Another sport where there is a risk of confusion is shootboxing, which in part evolved directly from kickboxing, which explains the almost striking similarity. Here, however, throws and task holds are allowed.
Kickboxing is known through various movies (Bloodsport, Karate Tiger 3 and others) as a ruthless and life-threatening sport. The truth of this fact, as well as other details about kickboxing origin, techniques, training and competitions, we want to shed light on in this kickboxing wiki.
Competition variations in kickboxing
Although there are no specific kickboxing styles, the rules of the federations differ in some points, such as the use of foot sweeps or kicks against the thighs (low kicks). Basically, however, you can distinguish the competition variants in the full contact, semi-contact (pointfighting), light contact and K-1 Rules – more about this in the following.
Semi-Contact: In semi-contact, each successful hit is followed by a break and a return to the starting position. This variant is strongly reminiscent of traditional karate and is fought on a mat just like karate. The strength of the hit is not important here.
Light contact fighting: In light contact fighting, the fighter fights with full protective equipment on a mat and is not interrupted after hits. Here especially the condition counts, since this very dynamic kind of the fight drains strongly at the forces. The force of the hit is not rated here either.
Full-contact fighting: Full-contact fighting is similar to light-contact fighting, but it is fought in a ring and with full force. Therefore, the fight here can be won not only by points, but also by knockout or technical knockout.
K1 rules: The K1 rules were created by the Japanese martial arts organization "K-1" and form the toughest set of rules in kickboxing. The goal is to win by knockout or points superiority, just as in full contact, although K1 rules also allow knee strikes to the body or head. However, low blows or choke attacks are also prohibited here.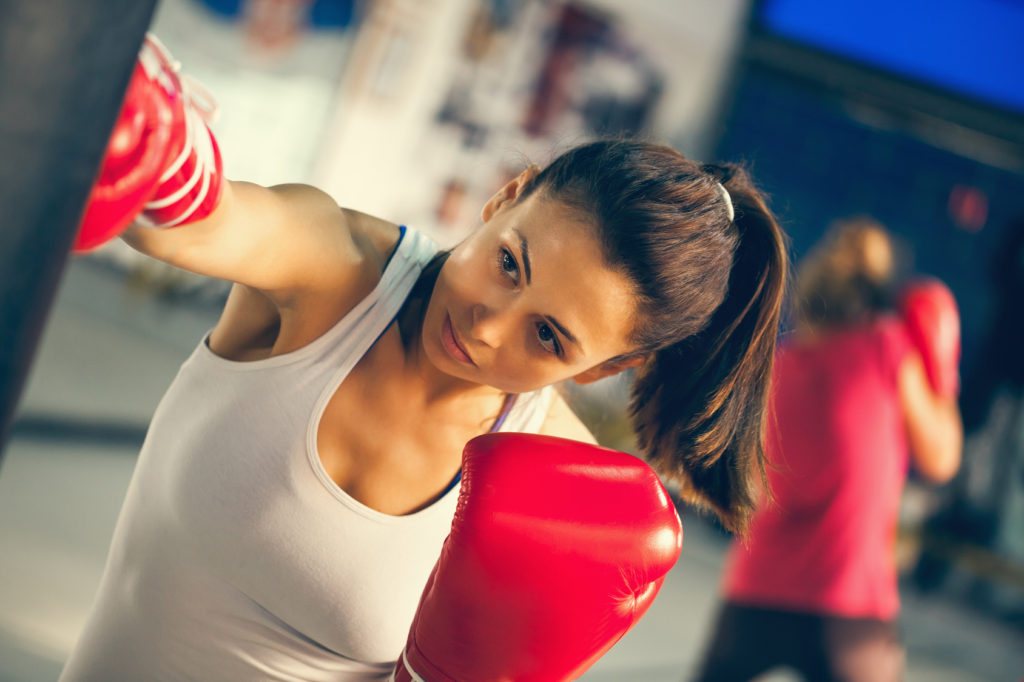 Conclusion Kickboxing: too brutal, good or suitable?
Kickboxing is far better than its reputation suggests. With a serious trainer and a friendly club, you can learn kickboxing as a martial art of the same high quality as judo, taekwondo or karate.
Our conclusion: You must clearly distinguish between 1) training and 2) competitions. Here is a big and partly bloody difference. In addition, both also depend on the club or the association, which protective equipment is worn, etc.. Therefore, do not be deterred, inform yourself at the club and make your own experience at a trial training.